Discussion Starter
·
#1
·
Yesterday I did my fall lawn restoration including low mow, core aerating, double-pass power raking, overseed with nice custom blend TTTF at 4 pounds/1000 square feet and hand filled two 1,000 square foot low areas with 6 yards of topsoil each and about 12 pounds/ square foot. Actually one is more like 1200 sq/ft and the other 800.
Afterward I applied bag rate of Scotts Starter fert with Weed Preventer (mesotrione), bag rate of Milo, and topdressed by hand the entire lawn with a dusting of peat moss.
Here are some lessons learned (things I should have done):
1. Always buy more seed than you think you need. I already ordered another 25lbs. What a waste of time if you end up going super-light on seed because you don't have enough!
2. Make sure you know about any cable TV/Internet wires buried in the lawn - they could be only a few inches under and get hit by the aerator.
3. Whatever topsoil you think you need - double it.
4. Pre-game with ibuprofen
5. Don't get lazy. During a project like this, the lawn is opened up and you won't have this kind of chance again for a long time. Do the double-pass aeration or power rake if you think you need it. An extra hour of work here, though a pain when you're tired, will be worth it.
6. Start as early in the day as possible! I started a bit after 8 and ended up needing to work until 8pm to get everything done. I should have started at 6am (doing non power-tool work like moving topsoil).
Here are some pictures: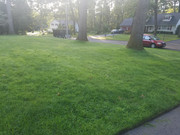 This is the main part of the front lawn at about 7:30am the day of the project.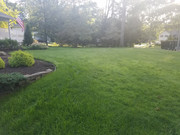 This is a different angle of the same area.
This is the front corner of the lawn. It's a problem area that I reseeded a coupe times but still had no success. It's also a low area, so I put down 6 yards of soil over this entire area.
This is another problem area that should come out nice. It was ugly when I bought the house last winter, so I knew it would have to be renovated this year. Put down 6 yards of topsoil over this entire area as well.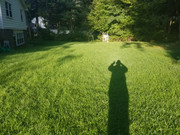 Here's the back with my long shadow in the shot. Towards the woods it's in pretty bad shape, but most of the woods are being cleared next month so I avoided wasting product near there.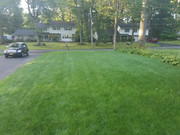 This is the side of the house on the other side of the driveway. Mostly fine fescue, so for this area I'm really looking just to get it fuller and slowly move away from fine fescues and toward TTTF. There are a few bare spots you can't see in this pic.
This is that same side but facing the house.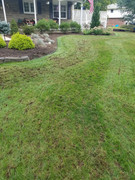 Ok now the good part. Here's a shot of the front near the beds. The lawn has been mowed extremely short, but not totally scalped. This is core aeration underway.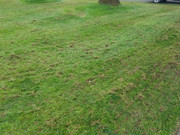 Plugs all over the yard. I really enjoyed picking them up and examining the soil in the different parts of the yard.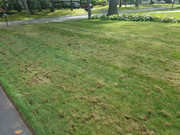 Power raked *after* aerating in order to break up some of the plugs. This is the side yard prior to running the mower over it to suck up the material that was pulled up.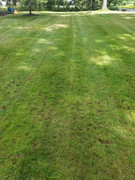 Here you can see a shot of the yard after cores were pulled, after double-pass power raking, and after running the beast of a mower over everything to suck up the junk. It actually looks pretty clean. When you look close, though, you can see plenty of dirt and tell that the lawn is cut super short.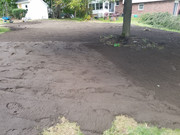 This is the side near the shed with the topsoil down. It was rolled once or twice at this point - I'm not sure. I raked it gently again before putting down seed and then rolled it once last time after that.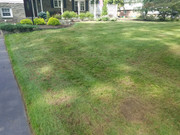 Here you can get a good sense of what it looked like just before putting down seed.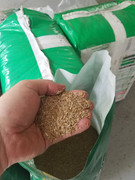 Beautiful blend of 50% TTTF 4th Millenium, 40% Traverse, and also 10% Kentucky Blue Bewitched.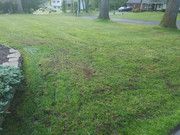 I used a normal Scott's rotary spreader to drop the seed and apply the starter fert and milo. That was the easiest part of the day.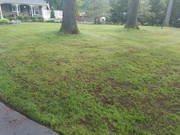 I really like to topdress very lightly with peat, so I walked the lawn dragging the bag and literally just dusted all 20,000 square feet with my two hands. It came out the way I wanted, though. Bare spots were covered, and even a light dusting on good grass is a healthy thing.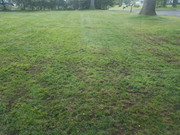 My hands were sore.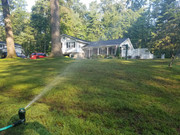 I wish I had inground sprinklers, but alas, I have to move my two rotary sprinklers around myself a total of about 12 zones every day for the next month.
I have high hopes. Other than a lot of time, I spent a ton of money on this project. Hopefully by mid-October this will all look amazing, and next Spring I'll be starting the season with an amazing lawn.