Discussion Starter
·
#1
·
Since I have Bermuda invading the narrow strip of lawn adjacent to my neighbor, I decided I will try to get the Bermuda to take over. I talked about it in this
thread
The strategy is to nurture the Bermuda and torture the St Aug, then once I have a decent amount of Bermuda growing I will nuke the St Aug by cutting "reel low" then hitting it with herbicide.
Current pics - I cut the St Aug at about an inch a couple of weeks ago. Which scalped it pretty bad...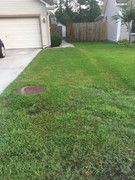 Zoomed in shots of some of the invaders and seedlings that are starting to grow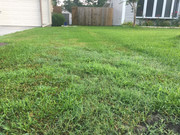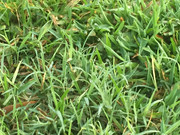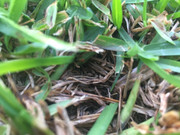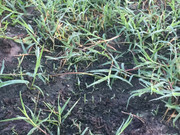 I have St Aug in my backyard, and love it there. My backyard is very shaded, and the only thing that will grow there consistently and fill in nicely is St Aug. I keep it between 3.5 and 4 inches using a Toro Timemaster 30" mower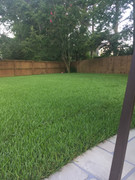 Last picture is my current front Bermuda with morning dew and in need of a cut. Still has a few thin spots and two toned. The area of lighter shade is slowly darkening to match the rest of the lawn. I am not sure what's going on there. This is the first year of low cut Bermuda for me. I was trying it at about .300, but it was taking forever to fill in so I raised to about half inch and am seeing better progress. There might be a leveling exercise in the near future.