Discussion Starter
·
#1
·
Alright this isn't a renovation thread per say, it's me trying to fix what I messed up!!
A little bit of a back story. I'm going to repeat some for the other thread and I apologize for that. We moved into a new house on May 12th, the yard looked good and I was pretty happy with its condition. The yard is 16 years old and I have no clue what has been done to it over the years so that's all in hindsight.
About a week after moving in 1 put a full application of Milo down, all was good, yard looked good and things were looking up. Towards the middle/end of June I put a bag of forever green fertilizer from Menards down(don't ask me why but I did). After that it got real hot, real dry(drought), and it lasted for quite some time. In fact we are still in a drought but receiving some rain. I wasn't watering as I didn't have to at my last house and the yard stayed ok, but not great.
Middle of July still no rain I started watering the front because it looked bad(real bad), but after a couple weeks nothing showed life. I gave up and decided it was dormant and no amount of water I could put down would help. Two weeks ago the temps let up some and there was some rain forecasted so I put down another app of Milo and watered it in good.
Fast forward to the present, the back yard is showing some signs of life, minus 3 troublesome areas, but the front yard is toast. I've been asking lots of questions here, and I truly appreciate all the insight I've received. I spent the morning at Earl May asking tons of questions as it's time to make a decision and get moving on it. It has been determined that the fert app I applied in June toasted the yard as 1)it didn't get watered in properly, and 2)the high nitrogen toasted and stressed the grass.
Front Yard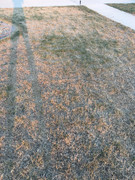 Rear Yard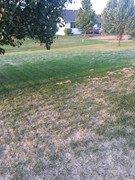 Now for the plan:
Today I overseeded the front yard and troublesome spots in the rear with the following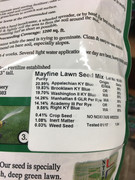 Starter fertilizer is down, I'm going to water like heck over the next week using hoses, a melnor 4 valve timer, and MP rotator DIY sprinklers. Next week I am going to go over the front yard and 3 spots in the rear with Lawn Restore. And continue to water.
The rest of the yard I'm going to hit strictly using monthly apps of Full Milo pushing nitrogen. Since I screwed up this summer I'm hesitant to use Urea this fall so I'm sticking to Milo. Milo went down today.
I'm new to all of this and I hope some can learn as I go along not only by what I'm doing, but also from my major mistake which now puts me in the situation I am in!
Thanks for reading!!