Discussion Starter
·
#1
·
A good buddy of mine sent me an Eley hose reel and I got it installed today. If you are looking for something that really just works, and screams quality, forget the box store and go to
Eley's website
and order the best I've ever seen in a reel.
It's super solid, smooth, and makes rolling up a hose a joy. I have 120' of 3/4" UnderHill hose and it's really thick, making it a challenge to store on a standard hanger. The Eley does a great job with it. Two things I added was the
gooseneck adapter
and the
extra capacity kit
.
[2018 Edit: Reels now ship with the gooseneck adapter]
The gooseneck prevents kinks in thicker hoses, and the extra capacity allows longer hoses to fit. I also got a couple
quick-connection kits
. I have always
hated
quick connection kits in the past because all Lowes/Home Depot sell are cheap and restrict water flow. These connections have a larger inside diameter than my shutoff valve!
A
3/4" shorty hose
connects my irrigation line to the reel with a quick connect. The 3/4" gooseneck connects to the hose, and the nozzle also connects with a quick connect. Finally, the cover protects the investment from the Texas sun. There is a 10-year warranty and several configuration options. The same unit can also allow a hose to be extended perpendicularly from the wall, or in a parallel fashion like I've done here. If you need to move some serious water, hate the box store reels, or just have inadequacy issues, check out the Eley reel. I'm pumped and wanted to share. I now owe my buddy, big time.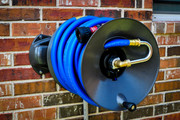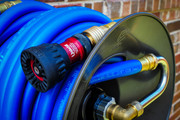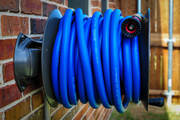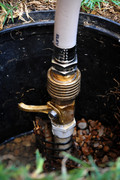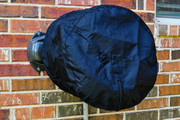 I also got a Eley
Two-Way adapter
for my hose bib. It's a lot beefier than the box store stuff, has a larger ID, is easier to turn on and shut off, and allows a second adapter to fit right below it, instead of having to add a second adapter to one side of the first adapter. I love this thing, too.