Celebration and Common Bermuda 10k Sq. Ft. Cal Trimmer, Ryobi Electric, Rotary Scissors
After reading so many journals over the last 8 months, I figured it was time to jump on in. I can't thank the users on this forum enough for all of the help you provide. It's been a lot of fun learning on here.
We moved into our house in April of 2021. The previous owner just mowed everything over, and had created a lot of exposed rock sections as there wasn't really any turf to speak of. He had also not controlled the sand bur problem on the property. Once we started to get things greening up, we found out that most of our front yard was infested with sand burs, and there were large patches of sand burs in the back of the lot as well. Below is where we started off.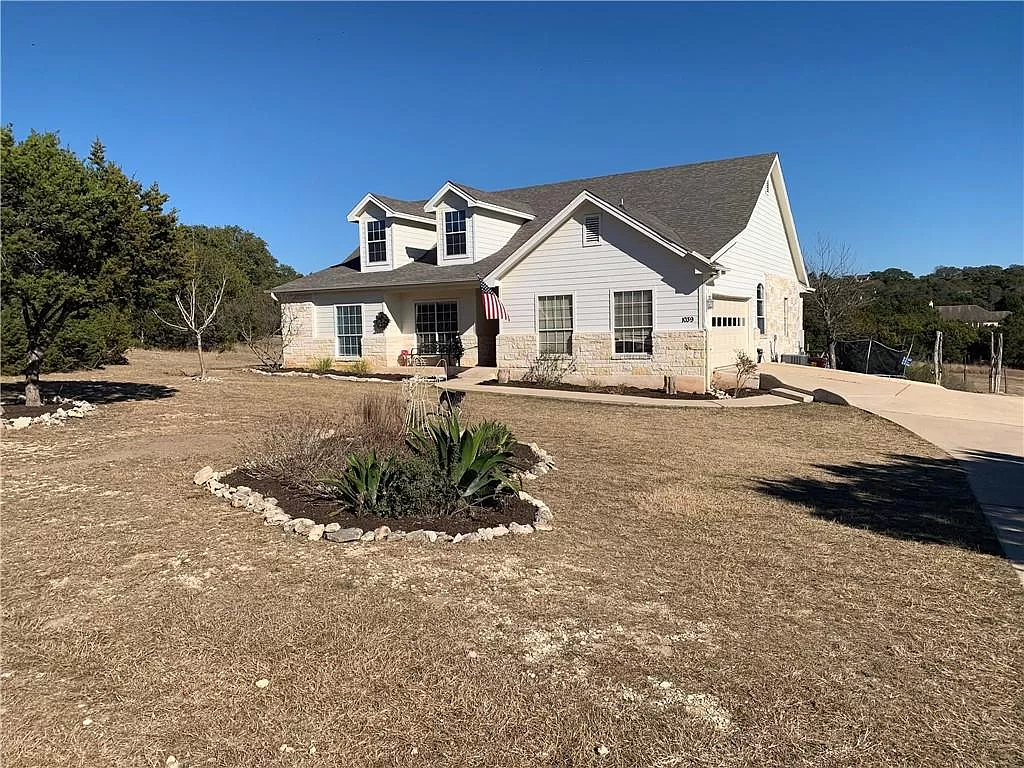 Looking at the house from the back yard.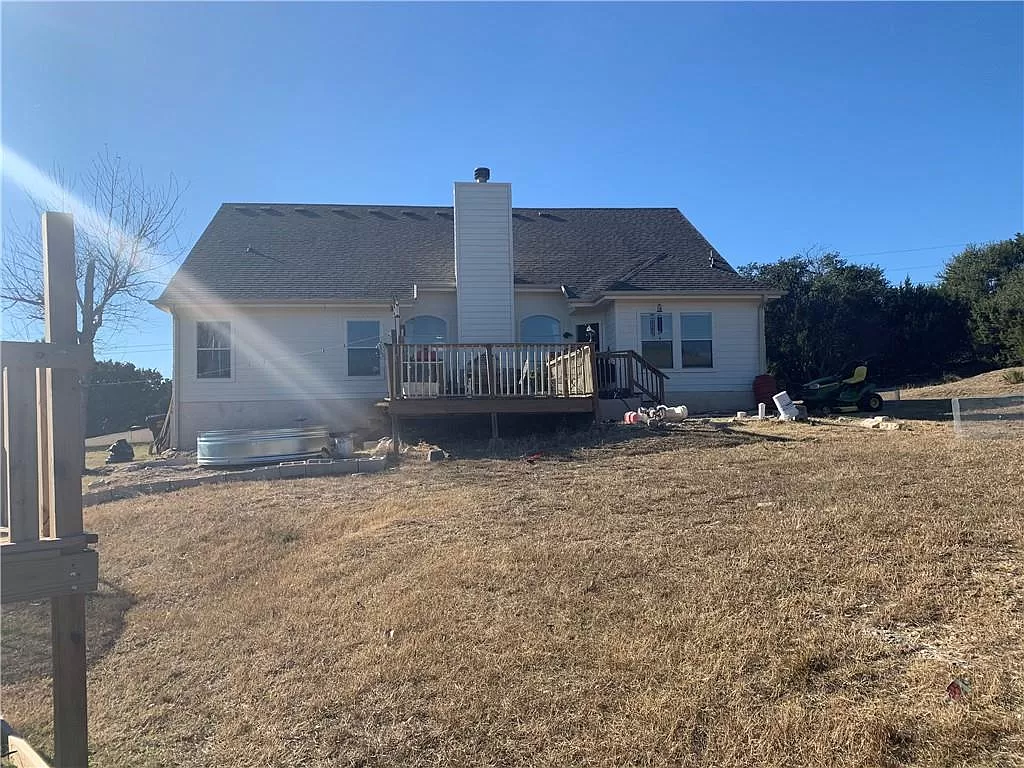 Looking to the back of the property.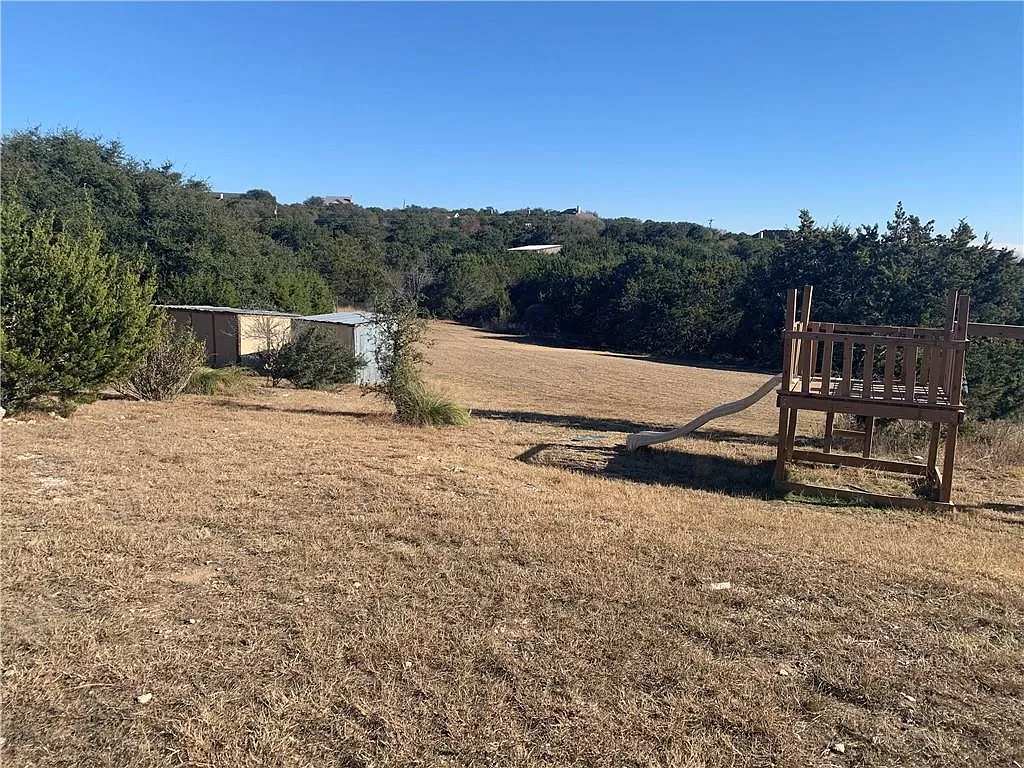 I figured the first year, I would let the grasses and plants do their thing, and see what we were working with. I also took down the play set as we don't have kids, and got rid of the old sheds that were in disrepair. Once the spring swung in, we realized how bad the sticker bur situation was, so I started to glypho it, and added on Ike's sand bur pre-em. It's helped some, but it was a super heavy infestation. We also saw that we had some bermuda, so I began encouraging that around the front of the house, driveway, and back yard. Some did better than others. I've also allowed the lower portion of the property to go native and will only be mowed one time per year.
View from the old patio with growth on lower portion of lot.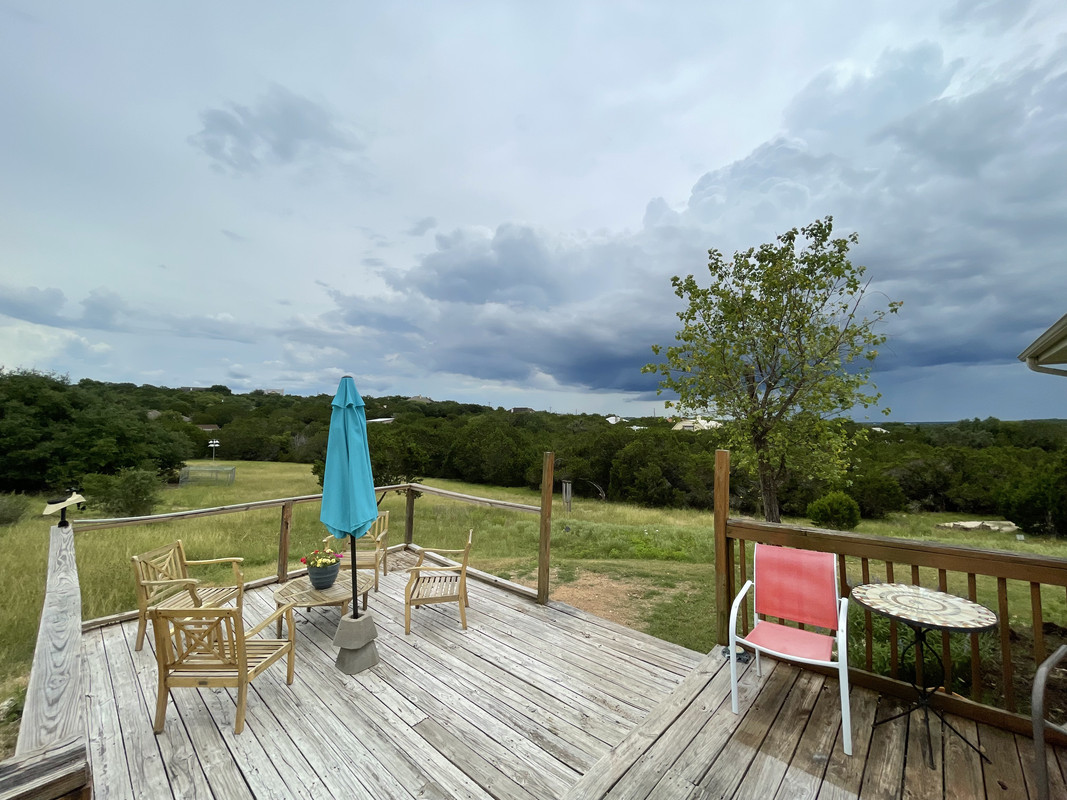 Front Yard after glypho of sand burs. (Most of this area is King Ranch Blue Stem which I will be addressing this year.)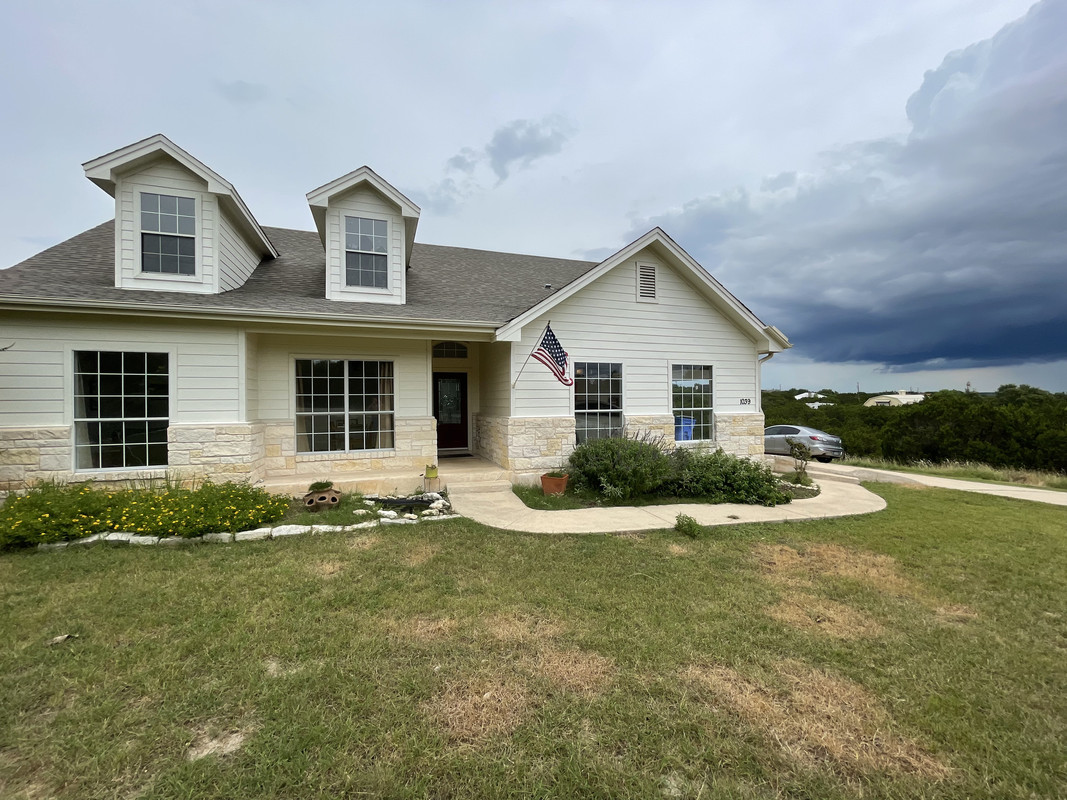 I got some great common bermuda growth in the southern side yard, as well as the barren rocky patch next to the driveway. That area was used to park on, and was seriously just rock. A true testament that bermuda will basically grow anywhere.
Side Yard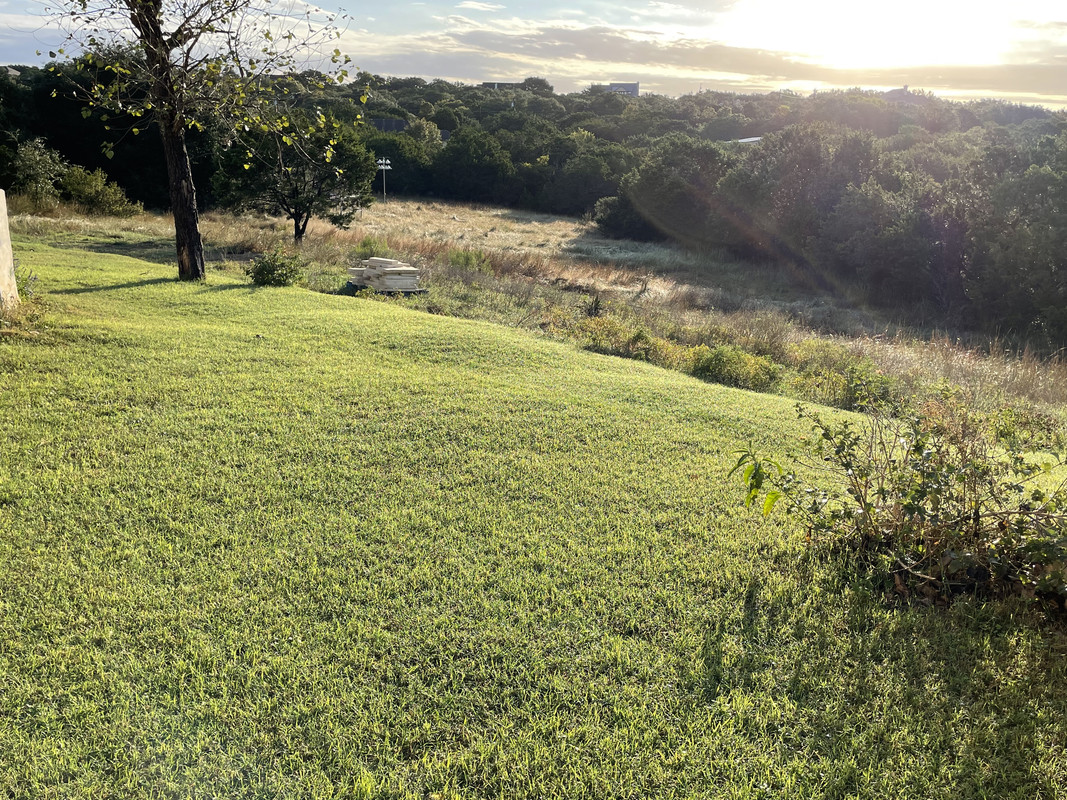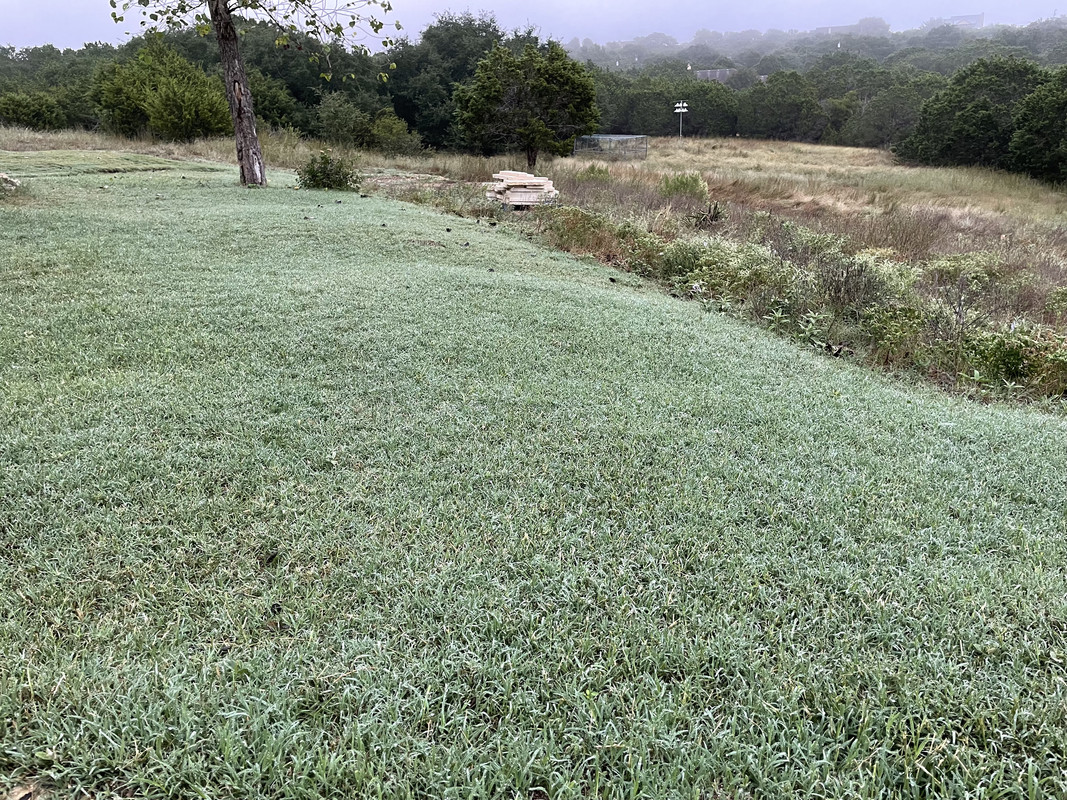 Rocky area next to driveway: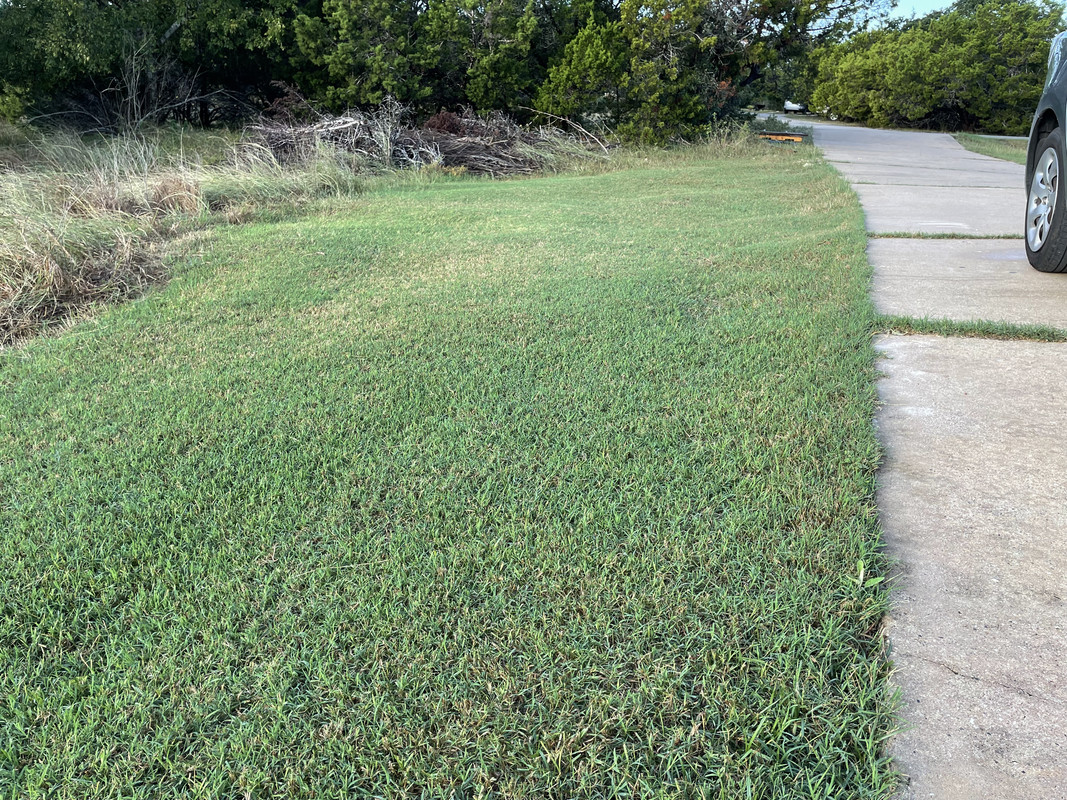 After living in the house for a few months, we took down the old deck, and replaced it with a solid patio. This of course tore up most of the back yard area from the equipment and masonry work. But I took the chance to get some soil in and added a pallet and a half of celebration bermuda. It took well, and looks nice. I'll be doing the rest of the upper area with celebration in March.
Old Deck: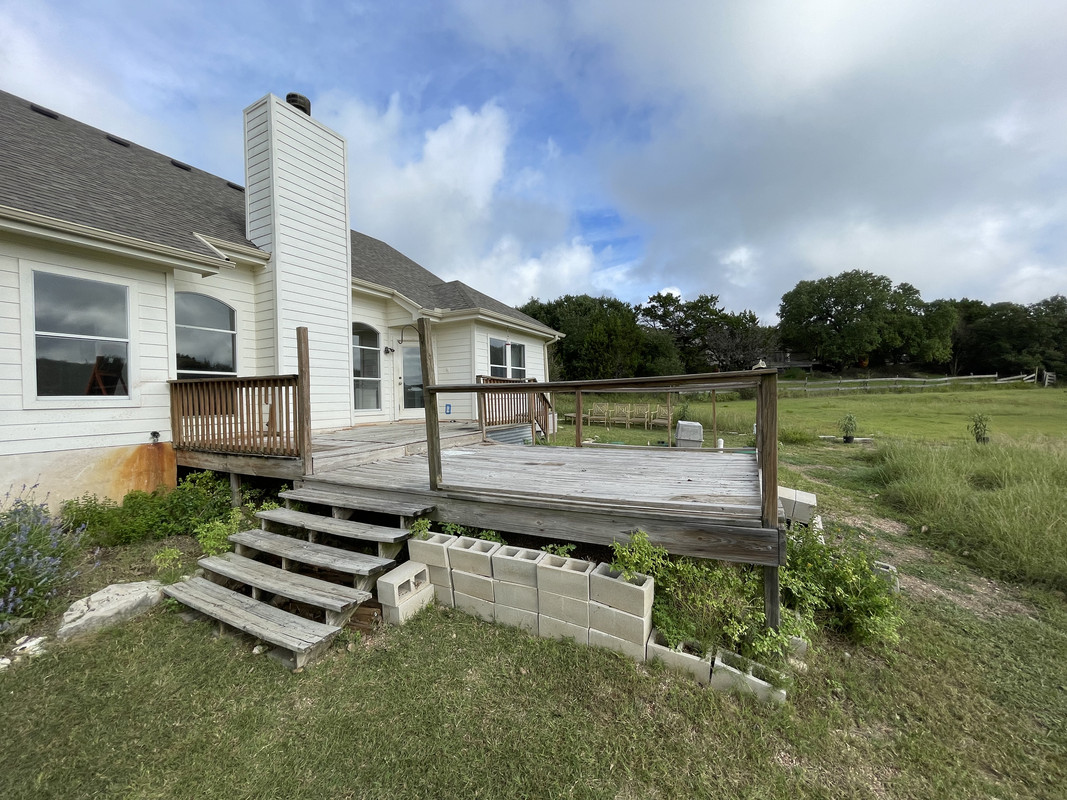 Construction: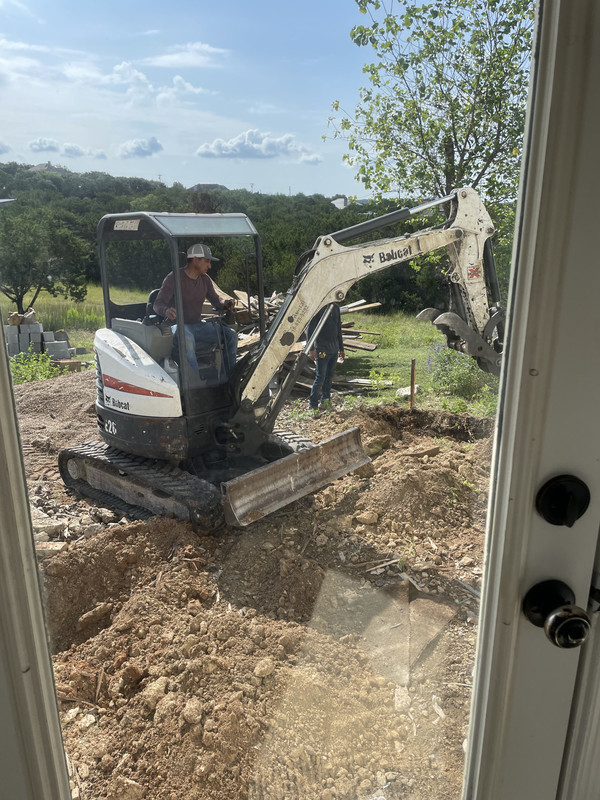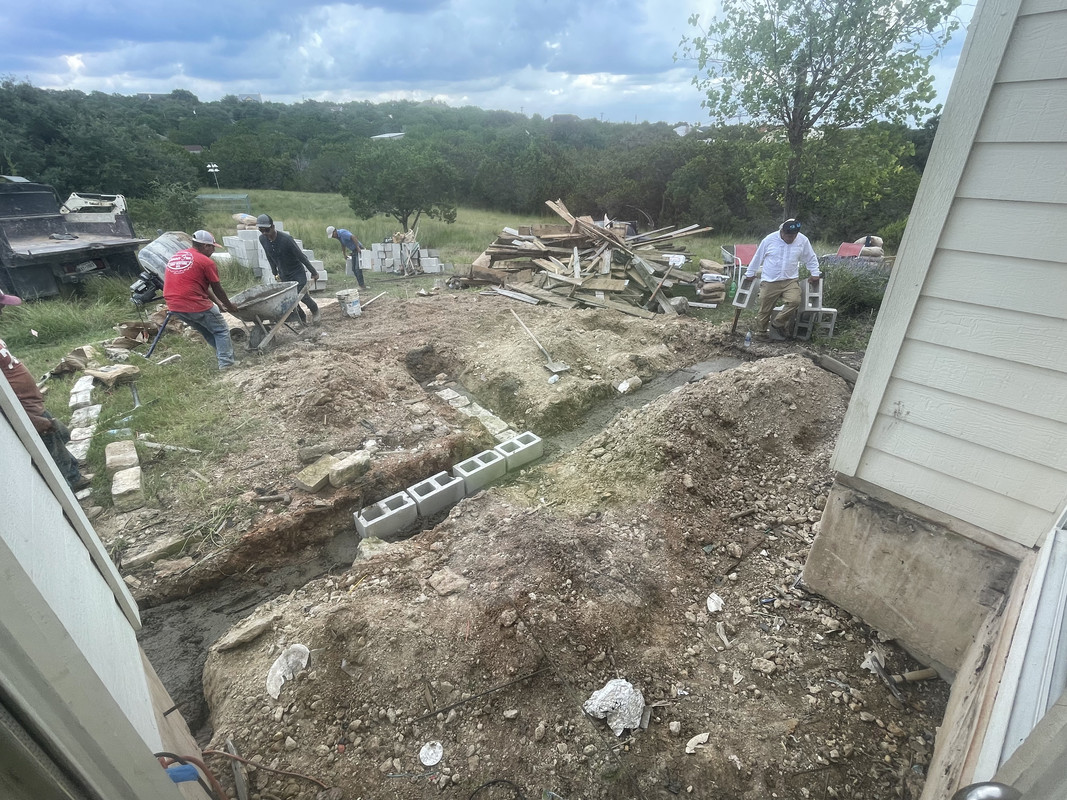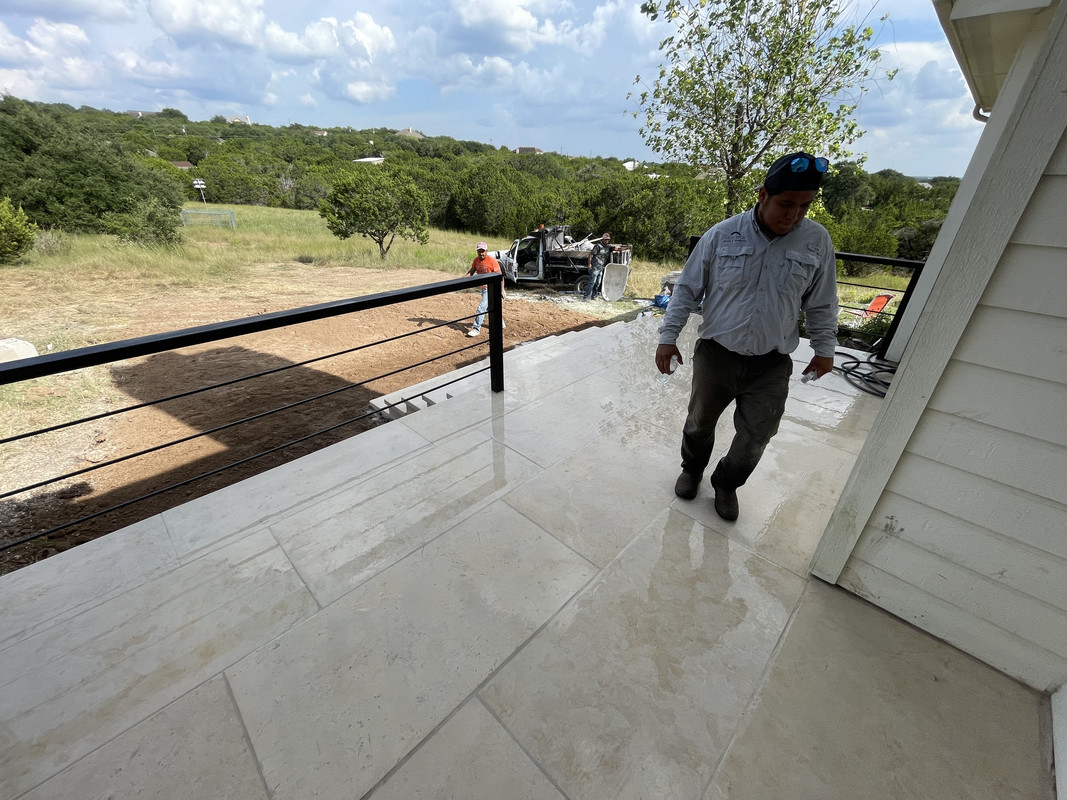 Post Construction before sod: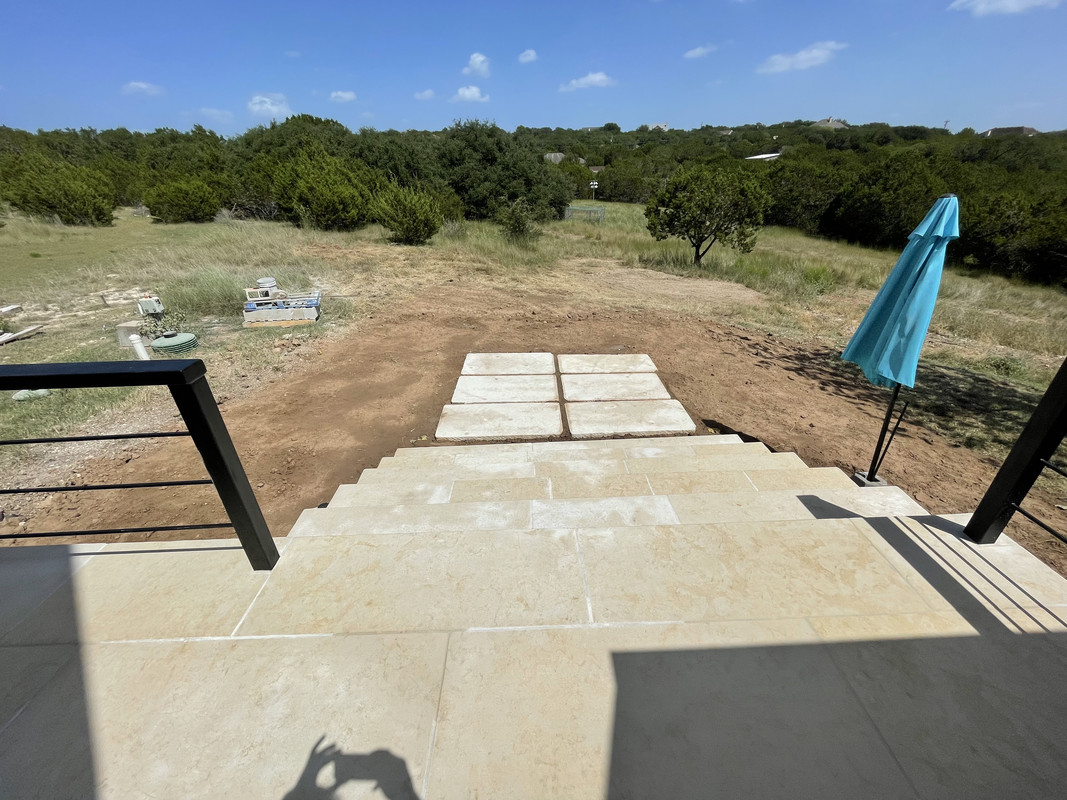 With Sod:
Neat sky with a big rainbow just for grins: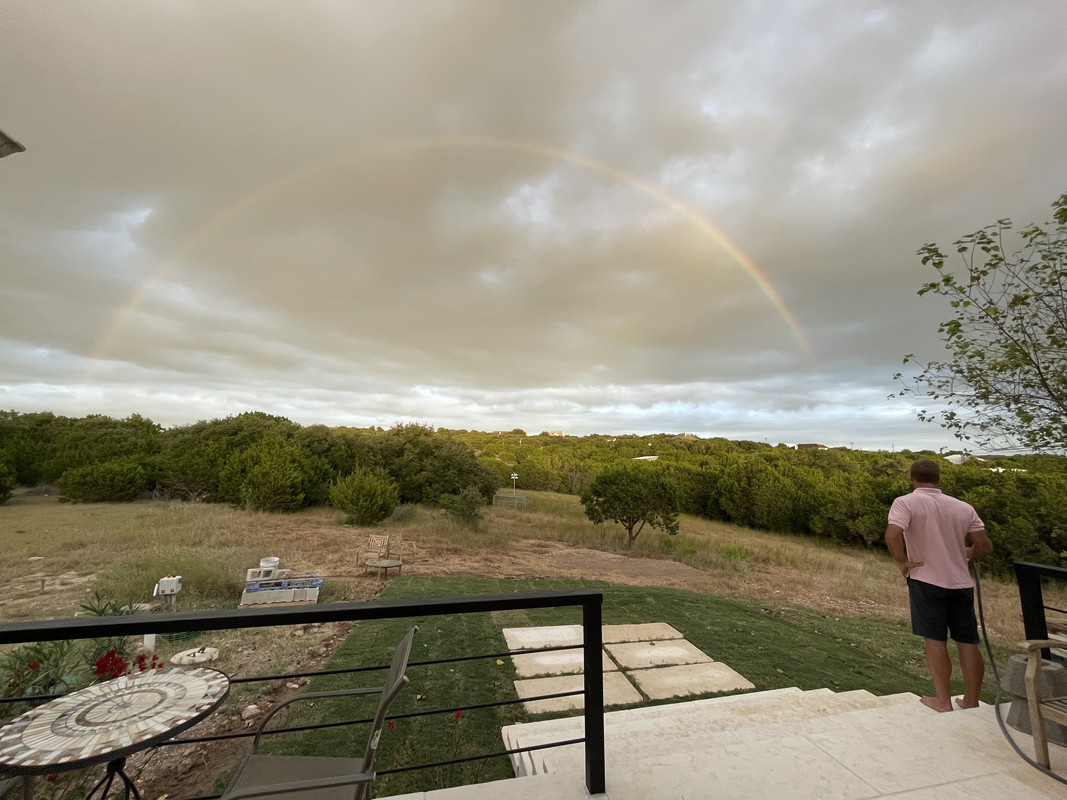 I mowed the front yard as low as I could and seeded it with PRG. It did ok. The mounds of King Ranch Bluestem (KRB) blocked a lot of the seed. But it did provide a nice green lawn for us over the winter which was nice. A lot better than when we bought the house the prior January anyways.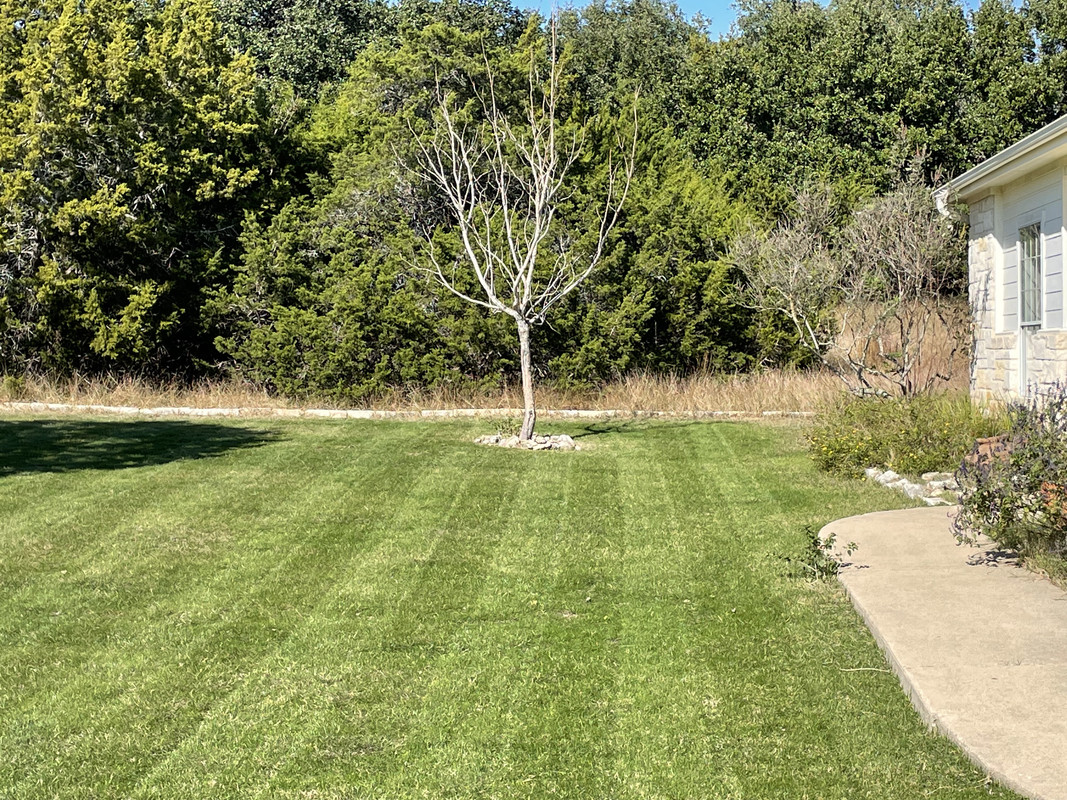 Then last month I found a good deal on a cal trimmer on FB marketplace. So I have started using that on the yard.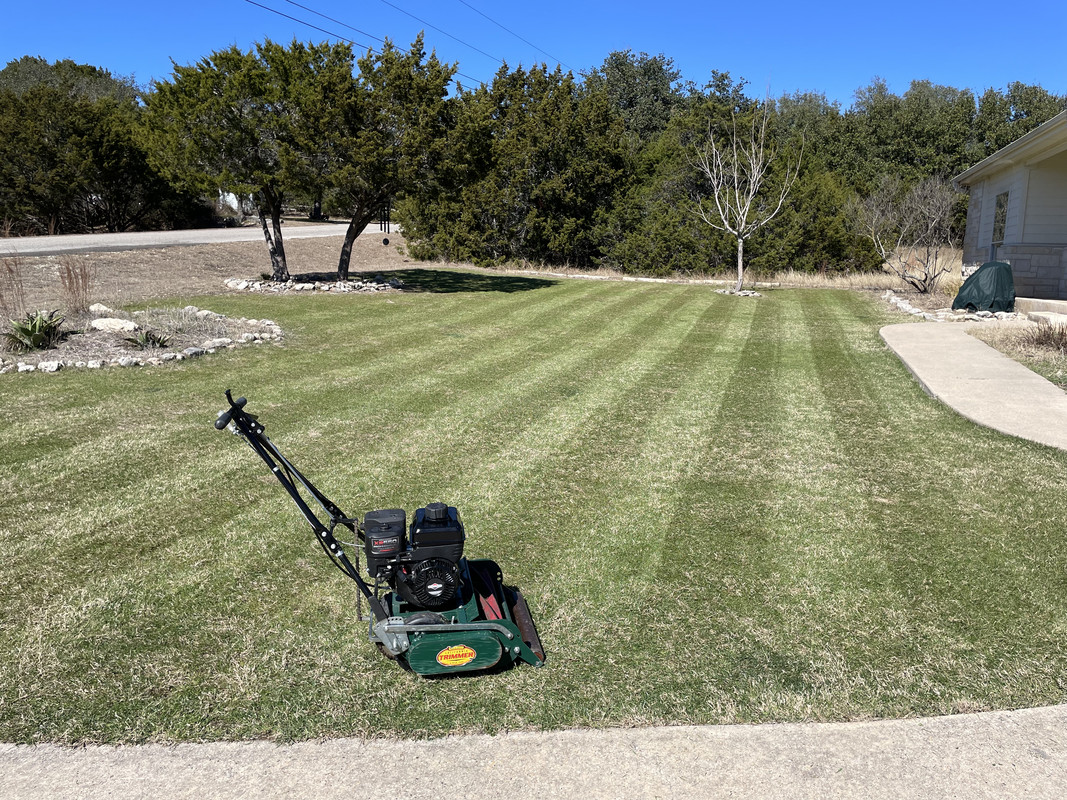 We've also planted some trees on our property line to provide some privacy from our neighbors as they sit higher than us on the hill. They're very nice folks, but we need some distinction between the properties as we don't have a fence. In order to plant the Crape Myrtles, I had to get in there with a jack hammer. We are on a shelf, and man, that limestone can be a pain to work in. But we got some good holes in, and hopefully they'll have survived over the winter.
I started scalping the bermuda, and I've been doing that in phases. I'll post some pics once I have it done. I'm looking forward to tracking the progress this year, and learning from all y'all on here.