Discussion Starter
·
#1
·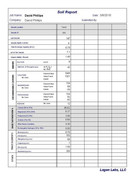 Looking for help interpreting the test report and for suggestions on how to improve the soil to get the best grass possible. I am growing bermuda (assuming some hybrid) and will eventually (over the next few seasons) get rid of any st aug creeping in from the neighbor's lawn. I only have a rotary mower as of now and plan to scalp the lawn best I can this month, and then mow as low as possible (as my lawn isn't perfectly level this probably won't be that low). Considering the idea of bringing in tons of sand to do some leveling this spring once the lawn gets growing well. And then subsequent levelings over the next seasons until I am satisfied with the level.
I probably screwed up taking the sample as I went with dirt at about 3-4" in depth and definitely below the grass root material. I noticed the soil was a lighter tan color versus the top 1-2" of dirt that was much darker. Maybe I should have submitted the dark material (top 1-2" of the profile) as well to get a report which more accurately reflects what I have to work with.
Prior to receiving the report I have planned on adding some OM this year (clearly it is low at 1.49%) and use Milo and soy bean meal (other sources from local feed store) in addition to synthetic sources of N. I am also going to start using the BestLawn soil conditioner and kelp help with humic pretty often this season. Hoping the HA helps increase my TEC (currently 5.79). Looks like I can use a balanced fertilizer as my P and K values are low?? Maybe need magnesium (in the form of epsom salt?). looks like the micros are deficient in copper (a little), boron (a little), zinc, and iron. I think I can apply the micros attached to Milo and through the spreader. Have no idea about how many grams/1000 sq ft to add on the micors or what else I should be putting down.
Thanks for reading and I am eager to see what you guys think I should do, when considering the soil test results.