Discussion Starter
·
#1
·
Moved into a new house in March that was not in too bad of shape but the previous owners had kids and didn't keep up with the lawn so there were lots of bare patches and grass was very thin with poor roots.
I have been somewhat following the LCN Cool Season guide but mostly have only applied Milorganite and some post emergent weed cocktails.
I'm not 100% sure on the types of grass in my lawn but I plan to do a massive overseed in the fall if I get the lawn looking good enough and kill off most the weeds by then. If not, I will be looking at doing a full renovation and killing off all the grass and weeds and doing a KBG custom mix from Seed Supply (maybe a tad of some PRG mix). I will also be doing some leveling which is very much needed in the back yard and along the driveway in the front and a spot by the water access.
At my last house I had a KBG/PRG and Milorganite only lawn which after 1 season of treatment was very thick lush and dark blue/green but grew like crazy as I was new to all this and had no idea about PGR.
Enough typing here are some photos I have.
Purchase of home (March 15th)
As you can see lots of bare spots and not very healthy looking even though still was dormant.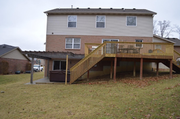 May 8th
I was more taking a picture of the shutters being a different color and trying to decide on new color for them and color for front door. I did 1 application of Milo (sometime in late April I believe) so can kind of see how it's doing and I was letting it grow up, so I could cut at 4"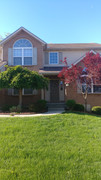 June 16th
I had to move the cut down a bit as wife wasn't liking it at 4" and I was also having some issues with fungus and grass somewhat leaning over. I also had done another application of Milo at some point. Also had my supervisor checking out the sprinkler for me.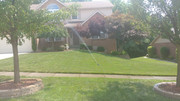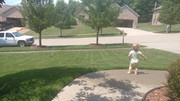 June 23rd
Cutting at 3.25" letting it grow to about 4". Finally tried doing a double wide stripe and pointed it the best direction for people coming up the street for total domination. I have some grass finally growing pretty well in the eaves way but also starting to see a lot of nutsedge at this point. I also had been spot-treating dandelions and also did an app of insecticide with the house end sprayer.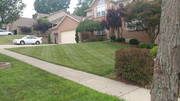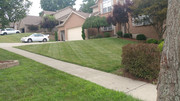 June 27th
These are a couple photos all from different times of the day and pre/post rain shower. Did a single double single and turned out decent, still need some practice and a striper. I did do a double cut of this as well.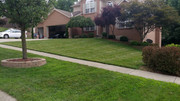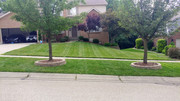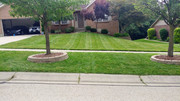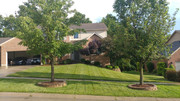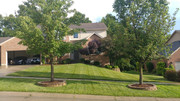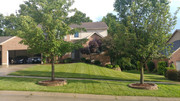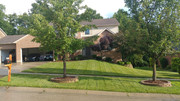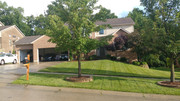 Decent rainbow afterwards.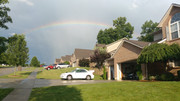 June 30th
Cut back up at 3.5" pretty sure I raised to this on 27th but not sure. Tried single double single angled and then the opposite way for a double cut. Don't think this turned out too well but I have been on a pretty big mission of trying to kill off clover, nutsedge and some lespedeza.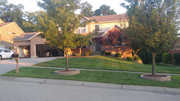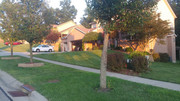 So that's it for now finally. I'm going to try to update this each time now that I'm cut off. I got some Southern Ag Chelated Liquid Iron (16oz) that I'm going to apply with my hose end sprayer tonight see how it turns out. Supposedly helps green up fast but I am nervous it may stress the lawn in trying to get it to grow too much but my lawn hasn't been looking too stressed. I do have some spots where my Great Dane lately hasn't been in the greatest of health and is causing some brown spots in the backyard, but I've been hand watering the spot after she is done. I'll try to get some more pics of the backyard and how it has come along.