Discussion Starter
·
#1
·
So this year my wife and I bought our first house.
Had a pretty busy year with the usual move-in stuff and the projects that ensue, so didn't get quite as much done on the lawn as i wanted to, but I've got most of the broadleaf weeds under control, had decent germination on my reseeding project (we had to dig french drains to deal with some drainage issues, and get the sump pump water away from the house.)
2107 Yard projects:
More Grass - Less Salad (there was a lot of salad)
Restore large soft muddy areas that had been left covered in leaf piles before the snowfall.
Restore areas where salt had killed what grass was along the side of the driveway.
Restore areas where runoff had pushed much out of the beds, and killed strips of grass along the beds
Dig out hoplessly overgrown shrubs and re-seed
Drainage install and reseed over the trench
Here's some before photos of some of the problem areas
This is the kids fishing in the leaf-puddles, you can also see the salad, ( almost half creeping charlie in this part of the yard), and the aforementioned shrubbery.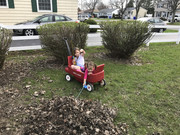 This is one of the bare areas around the garden where the mulch overflow had killed the lawn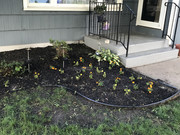 This is an area where I had problems with drainage out of an overflowing gutter taking garden mulch with it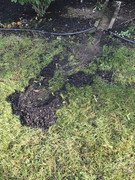 The lawn is doing better now, but in the process of reseeding the area where we installed the drainage trench, I chose a PRG blend (ProTurf Landscape Mix) It's beautifull grass, but there's a ton of what I'm pretty sure is K31 tall fescue here and there from previous repairs, and the huge fat blades look like crap, so at present I'm pretty sure I'm going to kill it all and reseed with ***/PRG next year.
2018 Goals
Continue defining beds, tear out the old plastic bed liners, and contour beds so they don't wash out onto the lawn
Roll and Core aerate in early spring, There's lots of bumps and low spots that need work hopefuly core aeration will help with some of the compaction I create by rolling,
Level and topdress to remove the low spots and bumps that shake the heck out of the lawnmower, would like to even the height of the turf to match the hardscapes, will make edging look better
I'll continue to amend the soil, and fertilize. will probably put down a spring pre-emergent, assuming I can find one that can be shipped to NY...
Come August, planning on a full renovation.