Discussion Starter
·
#1
·
This is just a friendly reminder to
take it easy
when applying Celsius, either spot spraying, or not. Not only is calibration of your sprayer a very important step, but getting the right nozzle (
TeeJet
) is also important. Sometimes we lawn geeks are exposed to cool products that aren't available from the big box stores. Just remember, there is a reason they are not sold in big box stores, and careful application is required.
1) Throw away the measuring cup that comes with Celsius. That way, you aren't tempted to use it.
2) Even though the new
Celsius label
has a teaspoon guide, I recommend buying a small
gram scale
and measuring out your ounces by weight (not fluid ounces).
3) Make sure you have a sprayer that accepts quality nozzles, like the ones outlined
here
.
4) Remember that a little dab'll do ya.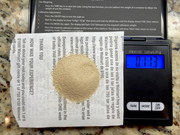 ​
I was only going to spot treat, so I didn't feel the need to calibrate. Wrong answer! Fortunately I grow the greatest, heartiest, simplest, and toughest grass known to man. It's a weed called Bermudagrass, and I love it. I try and treat it well, so it is trying to treat me well. These pics are two weeks apart, but I think I was lucky. Don't make my mistake, or you'll spend an entire season bringing your lawn back. Good luck,
spray at will
, and take it easy.
All the best,
dfw