So as the winter finally comes to an end and the snow melts away, I can tell a drastic difference in the color of the strip by the road vs this time last year. The old picture below (top) was taken on roughly the same day last year. You can tell how much more straw colored the grass was near the edge at that time. It definitely just looks like it is dormant instead of dead this year, we also had a lot more snow/salt put down this year. I think the grass was too immature last year to handle the winter and salt, the gypsum probably made a difference as well but whether or not that is the reason there seems to be a lot less damage this year I'm not entirely sure. I wish I would have left a portion untreated so I could compare, I personally think the gypsum helped, and it was cheap, so I see no reason not to apply it if you're having similar issues.
Unfortunately, since we had a lot more snow and some warm then cold weather, it was the perfect conditions for snow mold to develop and pretty much everyone in my area has snow mold damage, myself included. I have read articles correlating increased snow mold damage to potassium applications rate and timing and I did apply ~1lb of potassium last year, and have more snow mold damage than the previous year. Again, I can't be sure whether it was the potassium or just the weather this year that caused the snow mold to be more of an issue. I did some digging and found some research suggesting that lower potassium levels than were previously suggested could be optimal for turfgrass (i.e. 50-100 ppm vs previously suggested ppm of 200-400). The test I used suggested a range of 161-201. Since I was already at 159 ppm last year, using the guidelines from the article, I should have been fine to forego the potassium. I plan to use the 50-100 ppm target going forward since I didn't see any noticeable benefit from the potassium and ended up with more snow mold (again, not necessarily blaming the potassium as we did have ideal conditions for it to grow and EVERYONE in my area has damage, but I see no reason to apply more since it didn't seem to result in any benefit in quality, vigor, etc.).
I'm not too worried about the snow mold damage since it is mostly just small spots that should recover easily but there is one spot that got hit the worst and had the biggest patch of it that may not completely fill in until almost the end of the season, we will see. All the mold spots do have green growing back underneath them already though, so hopefully the recovery is quick. I did some additional reading suggesting that gray snow mold doesn't kill the roots and only really affects the foliage (cosmetic damage mostly) so I'm hoping that it grows out of it when we start getting warm weather and it comes out of dormancy.
Here is the article that I referenced about the potassium levels and timing:
Pictures of the curb edge last year vs this year: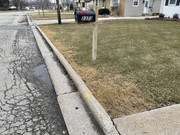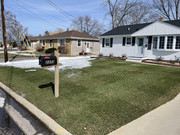 Picture from today that shows the snow mold damage a little better now that everything is melted off fully: