Discussion Starter
·
#1
·
A few weeks ago I purchased a Toro Greensmaster 1000 and began trying to take my lawn to the next level. It's been great so far and somewhat surprising the amount of attention the lawn is receiving. I mean people stop by a lot now and ask what I'm doing. One guy even asked me to walk down to his house and provide him a "consultation" - yeah I should start charging for this!
But in any case when I bought the mower I knew it maxed out around 1" but never really bothered to measure it. I just always assumed it wasn't anywhere close to the bottom setting because the previous owner was also using it for a home lawn and not a putting green.
My weed man though left this little measurement bookmark in my last bill so I gave it a try just a few moments ago. To my surprise it appears that my lawn is way below the 1" mark I thought it would be. I did mow yesterday but this thing isn't even registering close to the 1/4" mark. So how do I best measure what I'm cutting at. Not that it matters as I'm going to leave it where it is but just curious for the sake of comparison against what others are doing.
Here is a shot of my measurement: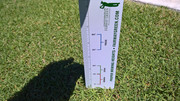 Here is what the front lawn looks like from a distance: