Discussion Starter
·
#1
·
All,
I'm back with another huge project underway that I thought you guys might find interesting. Let me preface everything I'm about to say/show with some warnings. This is an
experiment
, plain and simple. I cannot find anywhere on the internet that has tried sprigging via the same exact method as I am doing here and this could end up being unsuccessful. This post will also be mostly centered around large lawn owners (2+ acres) who don't have irrigation and want a higher quality grass than seed can provide. If you have a small lawn and your goal is the reel mow, I probably would not use this method and would instead pursue other ways of sprigging found on this forum. This also requires a lot of big equipment that most people will not have access to and even though uses alot of machinery and is still a ton of work.
Also, to keep this post from being a giant wall of text I will just summarize the process and try to keep from flooding everyone with information unless requested. Here is the post I made last year with my seed renovation and I have very detailed comments laying out most of the details of this process.
https://thelawnforum.com/viewtopic.php?t=25432
After not being too thrilled with my Mohawk bermuda I seeded last year, I decided to go back to my original plan of sprigging via tilling sod squares into the ground with a tiller. The theory here is pretty simple, throw the sod squares on the ground, till them in with a large tiller, and throw water and fertilize at it. This has a couple of advantages over traditional sprigging in my opinion. With this method, you are keeping lots of dirt on the rhisomes/stolons at all times and should make the watering situation more forgiving than just using sprigs gathered from verticutting. The majority of them are also buried under the dirt, which will also help keep them from drying out. The tiller also throws the material forward, which distributes the the roots and such into the gaps between the squares.
When I called my local sod farm, the owner was very helpful and told me not to mess with sprigs. he told me this method was much better and this is actually how they sprig all of their fields and they had done 20+ acres of field this way. He seemed very sincere and went out of his way to answer every question I had. I believed him well enough that I decided to try it.
I did all dirt prep several weeks prior, this consisted of a blanket spray of glyphosate, then tilling / harrowing after everything was dead. I did not know when the sod would show up, so I had to have everything prepared for the day it arrived.
I bought 9 pallets of tifway 419 ($105 per pallet) and threw each square on the ground spaced 3ft apart. My sod guy says he does 6ft apart but I could buy a few extra pallets and squeeze the spacing together to make it fill in faster, so I went that route as I don't want to wait all summer to have good fill in. After getting them all on the ground (which was a TON of work), I took my tractor and tilled it all in, first going long ways with the rows, then a 2nd time going perpendicular to the rows. I then ran a cultipacker over it multiple times and threw 200 lbs of 13-13-13 for a balanced fertilize down and started running the sprinkler.
One note here that has me worried. It's been bone dry for weeks here. After getting through laying the squares which took a whole day, I decided to wait on tilling and instead run my sprinkler all night long to try and get some moisture in the ground. This was a good call as the next day when I tilled, it significantly cut down on the dirt storm and the sod was a little moist which I believe will help it survive the short term lack of water. One issue I've ran into is that I typically always drag a harrow over dirt like this to get it leveled/settled/smoothed, but I could not do that here as it was bringing my sprigs to the surface and clumping them. All I could do was run the cultipacker over it which did not settle the dirt anywhere near as much as I would have liked. I suspect top dressing will be needed in the coming years to address bumpy-ness. Enough talk, here are some pics.
9 Pallets of 419: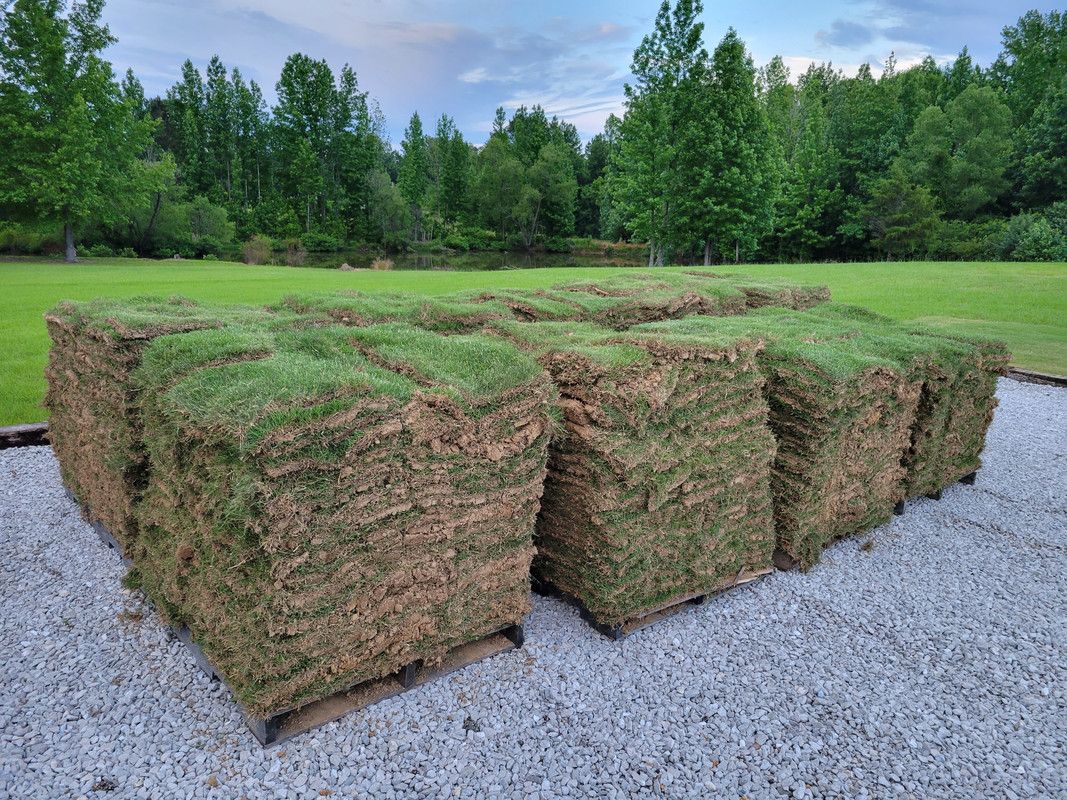 In progress of laying: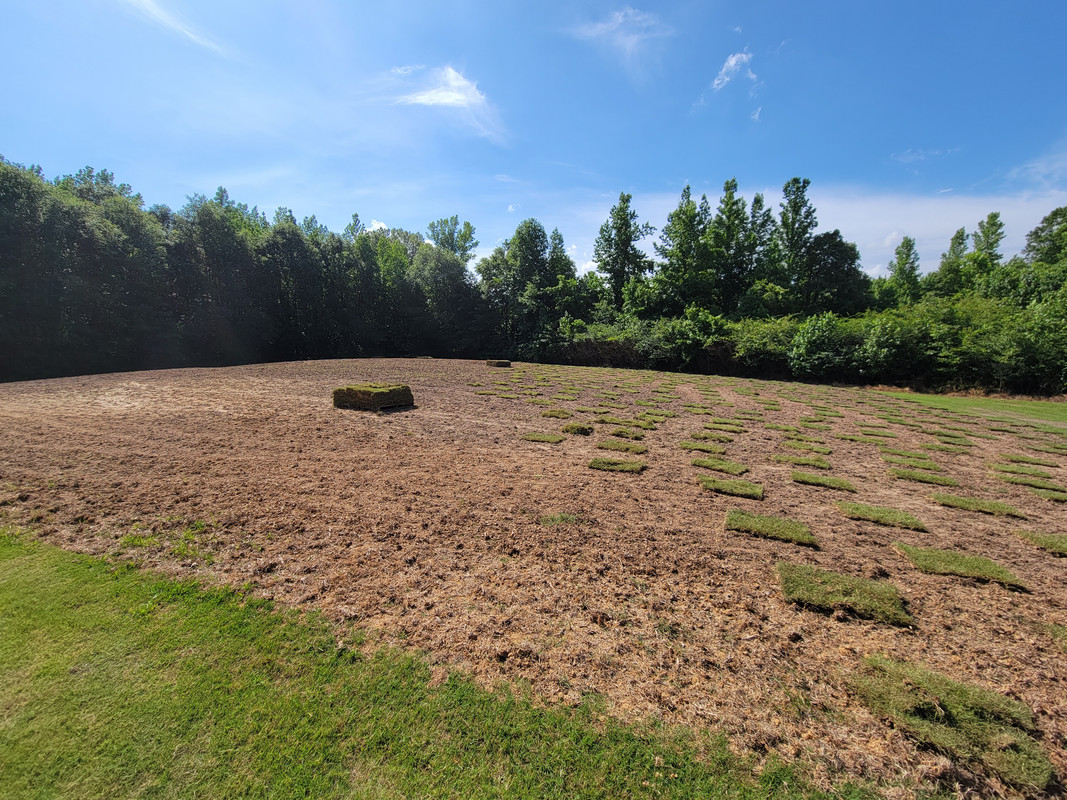 All laying done. This area is hard to get a full picture of because it is a hill. Total surface area is over 1 acre.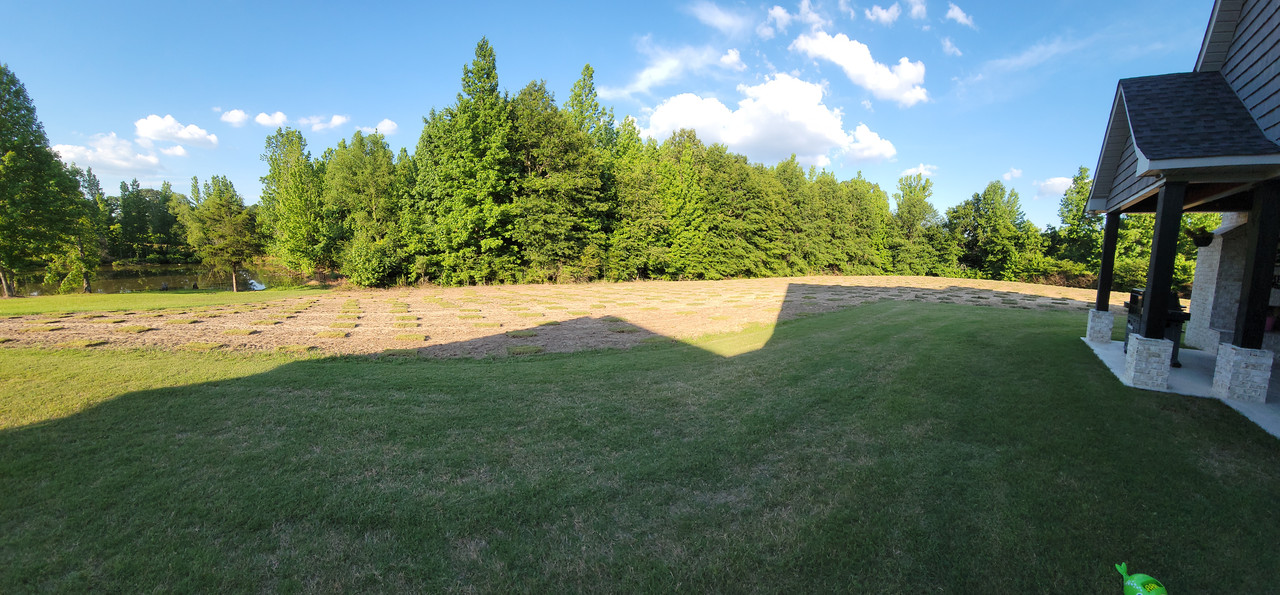 Tilling in progress (Ignore the patchy grass in this pic, that's a whole other story)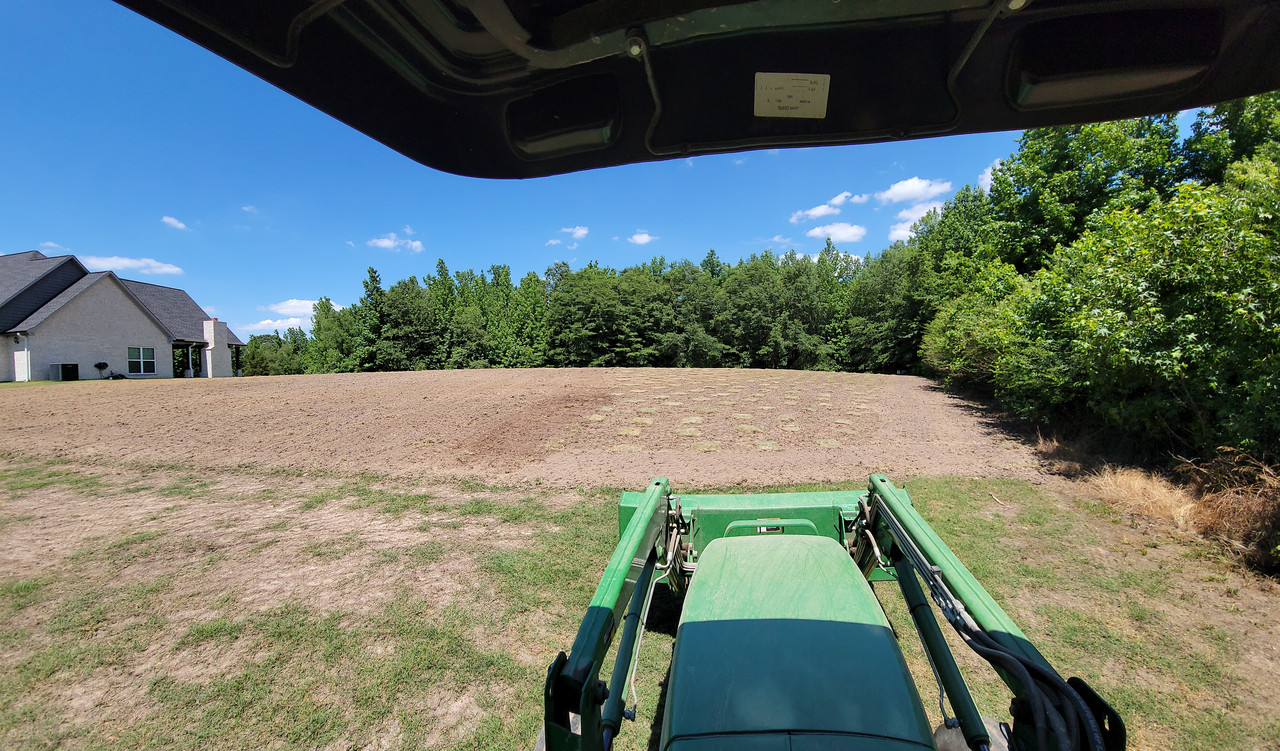 Even got the wife involved and her run the culti-packer for me since I was dead tired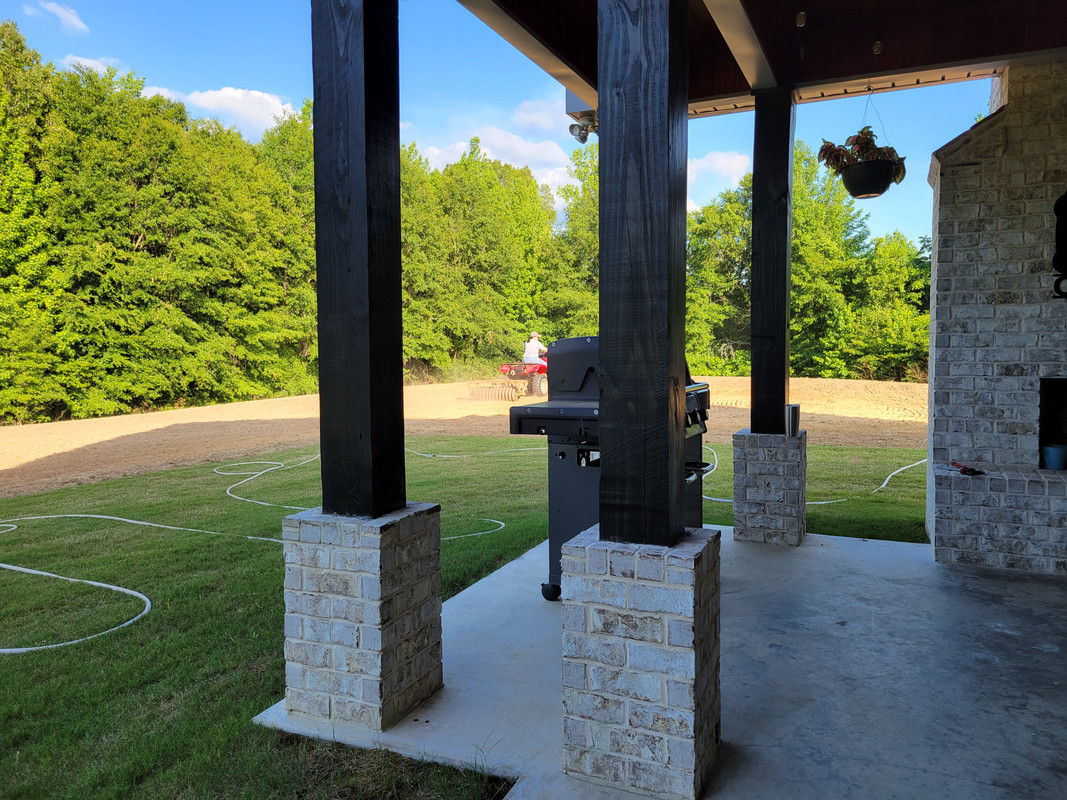 Day 5 progress (seeing lots of green!):