Discussion Starter
·
#1
·
PROBLEM:
Check out the photos of my lawn. The previous owner that we bought the house from ran out of money and finished the house with what little he had when we signed the paperwork and moved in (this is a whole long story within itself closing on the property). He had the sod laid right before we signed and my husband and I didn't notice that he had ordered 2 shipments at 2 different times brought in and laid. Now that the grass has grown in........Well, you can DEFINITELY tell there are 2 different types of Bermuda laid in the FRONT LAWN.
I believe that the greener is 419 and the other is....I am not sure. It looks like a weird quilt. The lighter side goes to seed while the other side stays that beautiful emerald green color that I LOVE! What do you guys suggest I do to make things look better?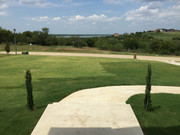 This is 3/4 acre of newly laid (<1 yr) Bermuda grass. This is the first time that I have ever had to maintain a lawn and want to dominate my neighbors. I am obsessed with looking at some of your lawns. They are so beautiful! I am turning to this forum for guidance. I have read TxWeed's Bermuda Bible and am following it. I eventually will want to level with some sand and get the grounds looking like a golf course for that low and tight cut. It's just ALOT OF LAND........
Maintenance:
Right now I have a professional company mowing my lawn every other week while I take my 18" Fiskars StaySharp mower to it for touchup's in between. I like to consider it a little of a workout :roll:
So far I have put down Milorganite and plan to level both the front and the back with sand in the spring after core aeration. Am I on the right track? Budget concerns have me limited on what I can purchase to get things going in the right direction to remedy this catastrophe.
What do you think that I should do about the patching?