Discussion Starter
·
#1
·
Can you get too aggressive dethatching bermuda?
I have another thread about a cutting with a GM1600 and the cut being unlevel. I sent the mower to get sharpened and while it has been away I have been bored...
In that thread it was recommended to verticut or dethatch. Hard to find a verticutter in OKC so I decided to detatch.
I pulled a significant amount of thatch off my yard. Keep in mind I scalped at .250". One thing I quickly noticed was it was scalping the high spots aggressively. Which is part of the reason I am unhappy with my cut. So I dethatched two directions and am beginning to wonder if it was too aggressive.
Here are some pictures: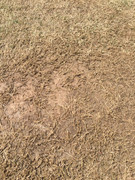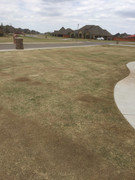 The zoomed in picture is the most aggressive part.