Tifgrand—7,500 sq/ft—Baroness LM56
Discussion Starter
·
#1
·
Written by:
Mightyquinn
Bermuda Bible: The New Testament
​
PREFACE​
I have put this guide together to help anyone who is looking to take care of their Bermuda lawn. Everything in here applies to ALL types of Bermudagrass whether it be common or hybrid. If there is a difference in care, I will note that in the recommendations. All the information in this guide is from personnel experience, university research, or things I have learned from interactions on various lawn forums from over the years. If you have any questions about what is discussed here, please feel to ask them at
The Lawn Forum
.
BASICS​
This is the minimum you need to do to have a nice Bermuda lawn. Bermuda is a tough and forgiving grass, so any mistakes you make can and will be fixed in just a few weeks with the right weather conditions and cultural practices. I am going to break down and explain each step and the reasoning behind it before giving you a basic calendar to go by. One more note of interest is to NOT overseed bermuda sod with another bermuda seed variety as it will not typically match your existing lawn and may give it a non uniform appearance. If you are unsure if your lawn was sodded and you have thin or bare areas, you can either take plugs or stolons from a healthy area and transplant them to the affected area or just let your bermuda fill in the areas naturally. After you feel comfortable with these methods, you can move to the Advanced Practices portion of the guide to take it to the next level.
MOWING:
Bermudagrass will do best when maintained at or below 2" but can still look good even up to 3" in height. It's best to scalp your lawn and remove the clippings just as it is getting warm outside and is usually done in February or March. You want to mow as low as you can without hitting dirt, if you do hit dirt don't worry as it will recover from its extensive network of rhizomes and stolons. You may need to mow 2-3 times a week to keep the Bermuda at a manageable level during the peak growing season (June-August).
FERTILIZING:
This is very subjective and is something you will need to play by ear and see how your lawn is responding to your inputs. Bermuda is a Nitrogen hog and "can" take large amounts of it but at a cost of FAST growth and increased thatch build up and WILL create more issues for you as the season progresses. If your lawn is thin and needs some filling in, go with 1.0-1.5 lbs of Nitrogen per thousand square feet of lawn per month. If your lawn is already mature and reasonably thick, all you should need is 0.5-1.0 lbs of Nitrogen per thousand per month. It's hard to recommend P (Phosphorus) or K (Potassium) inputs for every lawn without a soil sample test from your local extension office. As a rule of thumb you can go with a fertilizer with a 2:1 Nitrogen to Potassium ratio and still be safe as Potassium will leach from the soil fairly regularly. There are two basic types of Nitrogen, slow release and fast release fertilizer. Slow release fertilizer is usually Urea that has been coated to ensure a continued slow release of Nitrogen over the course of 4-8 weeks. Almost every bag of fertilizer will have the percentage of slow release that is in the bag so you should use that number to gauge how long it should last in the ground. Below is an example of a fertilizer analysis from a Scotts Turf Builder 32-0-4. As you can see there is 32% Nitrogen in the bag, so you would need to apply about 3 lbs of product per thousand to get 1 lb of Nitrogen on the lawn. At the very bottom next to the asterisk(*) it says it contains 9% slow release Nitrogen of the 32% in the bag. So you would take the 9% and divide that by the 32% in the bag and you would get .28125, which means you have 28% slow release fertilizer in the bag and 72% fast release.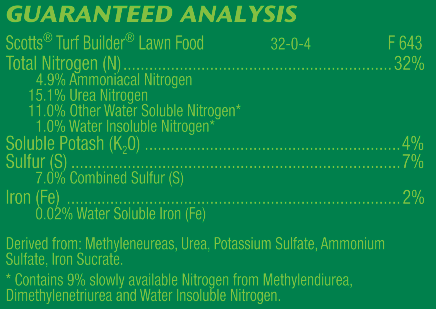 Fast release fertilizer is usually Urea (46-0-0) or Ammonium Sulfate (21-0-0) and is used up by the grass or lost from volatilization or leaching with in 2-3 weeks of application. If you are planning on using just fast release fertilizer to feed your lawn, plan on feeding it less per application but more often to get the 0.5-1.0 lbs of N/K a month. Fast release fertilizer is generally going to be cheaper than slow release but will need to be applied more often achieve the best results.
WATERING:
Your lawn will need around 1" of water per week on average, either from irrigation or rainfall. This 1" of water is just a starting point and you may need to adjust the amount up or down depending on the weather. When it's cooler outside (spring and fall), you may only need 0.5" a week and when it's extremely hot outside (95°F+) you may need to bump the total up to 1.5" a week. Depending on your soil and how well it accepts and holds water will dictate how much you can apply at one time. Remember that it is better to water your lawn as long and as much as you can at one time than it is to just give it sips of water as you want to encourage deep roots and avoid weeds.
WEED CONTROL:
The first step in a good weed control program is using a pre-emergent herbicide (prevents weeds from germinating) like Barricade (Prodiamine) or Dimension (Dithiopyr). There is no time like the present to apply one if you have not done so already. Be sure to look for generics that have the same AI (Active Ingredient) as the name brands. You can find both of these products in a sprayable (which is cheaper per application) or mixed with a granular fertilizer (like 0-0-7) for easy application with a broadcast spreader.
For post-emergent control (after the weeds have germinated and are visible) you will need something to control all 3 types of weeds (broadleaf, grassy and sedges). It's fine to use any of the products that you find at the big box stores, but you may not get the results you want and many of them have a max temperature restriction of 85-90°F, which is prime growing season for both Bermuda and weeds. Using a combination of Celsius and Certainty herbicides will kill 95-99% of any weed you will encounter and they both have NO temperature restrictions. The only caveat with them is that they are slow to show signs of damage to the weeds and may take up to 2-3 weeks to see the weeds die off completely. For further reading, see
Bermuda Triangle
.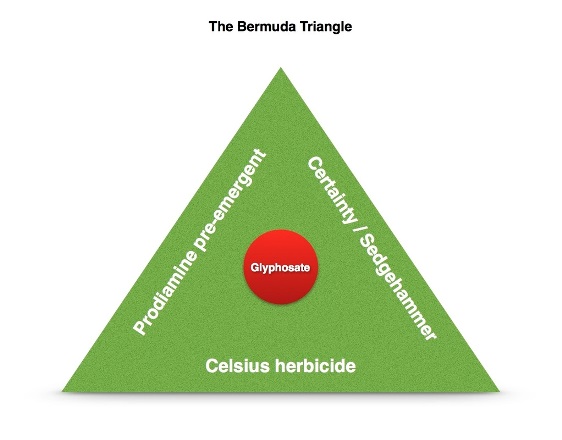 ​
MAINTENANCE CALENDAR​
SPRING (FEB-APR)​
MOWING:
As soon as you see the first shoots of green grass sprouting up out of the lawn, you will want to start your first mow (scalping) of the season. The object here is to mow your lawn down as low as you can without hitting dirt. Be sure to remove all the clippings that you can as you do not want them sitting on the lawn and smothering the new grass that is trying to grow. By removing all the dead leaf tissue now, you are allowing the sun to get down in the soil and heat it up and encouraging the Bermuda to grow. The lower you can mow it now will give you more room to move the height of cut (HOC) up later in the year if the lawn warrants it. You will also want to mow lower than your intended HOC, so if you want to maintain your lawn at 0.75", you will need to mow down to around 0.50" and if you have a rotary mower you will want to scalp at least one notch below your intended HOC.
FERTILIZING
: You will want to wait until your lawn is about 50% greened up before applying your first fertilizer application. In lieu of a soil test you can apply a balanced fertilizer at this time like 10-10-10 or 20-20-20 at a rate of 0.5-1.0 lb of Nitrogen per thousand. This should give you adequate Phosphorus (P) for the rest of the year as it does not leach from the soil very readily. You will need to continue to apply 0.5-1.0 lbs of N per thousand every 30 days from this point on to maintain the Bermuda.
WATERING:
Once the lawn is 50% greened up you will want to start watering your lawn regularly to supplement any rainfall you will be getting in the spring. You may not need to water the whole 1" every week this time of year as the temperatures are usually cooler at night and water loss through evaporation is usually less but your lawn and local climate will dictate that. As the temperatures start to rise so will your need for more water on the lawn.
WEED CONTROL:
As stated above, if you have not applied a pre-emergent herbicide yet, NOW is the best time to do so. To control any existing weeds you may already have, this is usually a safe time to go ahead and spray them with any over the counter weed killers you can find at the big box stores (Lowe's or Home Depot). It is not so important as to find out the name of the weeds you have as it is to find out if they are a broadleaf, grassy or sedge type weed so then you can get the right product to kill them. If you are using Celsius and/or Certainty this time of year, expect a slower response time from them as the weeds will take longer to ingest the herbicide and kill the weed off.
SUMMER (MAY-AUG)​
MOWING:
Your lawn should be fully greened up by now and you should be mowing at least twice a week to maintain the best appearance. If you are mowing over 3", you may be able to get by with once a week mowing but that is not recommended as your Bermuda will become thin and leggy at that height and will create more issues as the season progresses. If you are maintaining the lawn at or around 0.5" you will need to mow the lawn every other day unless you are going to use a PGR (Plant Growth Regulator), which will be discussed in the Advanced Practices portion of this document. When mowing be sure not to cut off more than 1/3 of the leaf blade during one mow as this may damage the grass and will take longer for it to recover. So, if you are maintaining your lawn at 1", you would want to mow BEFORE your lawn gets above 1.5" high. There is nothing wrong with mowing your Bermuda before it gets that high and it will actually encourage the lawn to grow thicker.
FERTILIZING:
You should already be applying 0.5-1.0 lbs of N per thousand every month, so just maintain that throughout the summer as this is prime growing season for Bermuda. If you have some thin or bare spots/areas in the lawn you can apply up to 1.5lbs of N per thousand monthly to help these areas fill in and thicken up faster, just be sure you are watering those areas enough to help encourage growth.
WATERING:
Now is the time you will want to pay closer attention to the lawn for signs of drought stress and start increasing your irrigation output closer to 1" of water per week. During the summer months you may get a heat wave in your area of about 95°F+ and will need to water more than 1" per week in order to keep the Bermuda in a healthy state. If for some reason you are not able to water your lawn during dry spells or extreme heat, do not worry as your lawn will just go dormant(brown) until it rains or you are able to irrigate again. Bermuda is a very tough grass and will survive through almost anything. When irrigating your lawn you will need to learn what kind of soil you have and how much water it can absorb with one cycle of the irrigation and how long it will hold onto that water for. If you have a sandy soil, you most likely will be able to water the 1" all at once but it will not hold onto that water all week so you are best to water 0.5" at a time 3-4 days apart if you are not getting any rainfall to supplement the lawn. The opposite is true if you have a clay soil, you may have to water your lawn in shorter periods to get the water to absorb and not run off but it will hold on to the water for longer periods of time. It's a matter of trial and error and to see what works best on your soil where you live. The object here is to water as much as you can to wet the top 6" of soil without over watering and wasting water and encouraging weeds to grow in the lawn.
WEED CONTROL:
If you have not applied a pre-emergent herbicide to your lawn yet, NOW is the time to do so. If you have applied a pre-emergent herbicide already, then your weed issues should be minimal unless you are tackling an existing problem already. By this time in the year, it will most likely be too hot outside to apply anything that they sell at Lowe's or Home Depot to kill the weeds you have without harming the Bermuda. You will need to look into using some Celsius/Certainty to kill any existing weeds you may have. The hotter it is outside the better these herbicides will work. Some herbicides will call for the use of MSO (Methylated Seed Oil) or surfactant to add to the mixes but be careful using this in extreme heat as it may damage some of the surrounding Bermuda. When spot spraying weeds this time of year be sure that you are just misting the weeds and just barely getting them wet, DO NOT over apply any herbicide thinking you will get a better kill as this will damage the surrounding Bermuda also. Having a healthy and thick stand of Bermuda will go a LONG way towards keeping weeds at bay and choking what little weeds you may get out.
FALL (SEP-NOV)​
MOWING:
As the days are getting shorter and the temps start to cool off, your mowing frequency will start to be cut back as the Bermuda is not going to be growing as fast. You will still want to maintain as low of a HOC as you can but you may only have to mow once a week to maintain a great looking lawn. The lower you can keep your HOC the greener the lawn will stay as the temperatures start to drop and cool off. Still try to maintain the 1/3rd rule until the lawn goes dormant. Bermuda will generally go dormant after your area experiences a hard frost. You may also get some "tiger stripes" in your lawn after a cold snap. Do not worry as this is normal and there is nothing wrong with your lawn.
FERTILIZING:
You will want to keep up your monthly applications of Nitrogen until about 30 days before your anticipated first hard frost. You will want to apply your last application of fertilizer at or around this 30 day mark, as you don't want to be pushing growth as the lawn starts to store food for the winter and the following spring. You may also want to apply around 1 lbs of Potassium per thousand with your final fertilizer application to help "harden off" the grass before it goes dormant.
WATERING:
As the days start to cool off, you will be able to cut back on your watering frequency and amount as the lawn will hold on to water for longer periods of time. You may be able to cut out watering all together as it gets later into the season and you start to see all the top growth come to a halt. You might still need to water occasionally if your area experiences a brief heat wave without any rainfall.
WEED CONTROL:
If you have not applied a pre-emergent herbicide to your lawn yet, NOW is the time to do it. It is good to have a good pre-e barrier down going into winter, since having weeds in your lawn while it is dormant and brown will stick out like a sore thumb. For any weeds you may have this time of year, it should be safe to use anything you can get at Lowe's or Home Depot, just make sure the temperatures are below 85°F and you should be safe. Just know that the cooler it is outside, the longer it will take to see results as the weeds are not ingesting the weed killer as fast as when it is warmer outside. Celsius/Certainty are still safe and good to use this time of year but once again it will take longer to see damage from spraying.
WINTER (DEC & JAN)​
MOWING:
The lawn should be dormant and brown by now, so you should no longer need to mow except to mow one last time right after it has gone dormant to help smooth the lawn out and give it a nice even appearance.
FERTILIZING:
There is no need to fertilize the lawn while it is dormant since the Bermuda will not be able to utilize anything you apply. The only exception to this is that if you had a soil test done and it says to apply lime, now is the best time to do so as you have all winter for the lime to work down into the soil, which will help you come the following spring. Fertilizing while the lawn is dormant can also lead to Spring Dead Spot disease, which will take months for your lawn to recover from.
WATERING:
You should not need to water while the lawn is dormant, as you should be getting enough water from the occasional rain storm or even snow in your area. As long as it doesn't get hot and dry for an extended period of time you should be fine. If that situation does arise, then just running your irrigation for one cycle should be fine.
WEED CONTROL:
For any winter weeds, anything you can get at Lowe's or Home Depot should get the job done and be safe to use while the lawn is dormant. Just keep in mind not to soak the weeds, as you may still damage the Bermuda when it comes out of dormancy. Even though it is not green on top, it may still be alive right under the soil, so it can still get damaged. Under NO circumstances is it recommended to spray Round Up (Glyphosate) on a dormant Bermuda lawn to kill weeds. Even though it is dormant and not growing, it may still be "awake" enough to kill the lawn and you have dead patches all over the lawn come spring time.
ADVANCED PRACTICES​
The following are some advanced practices you can use to take your lawn to the next level and you can incorporate them as you see fit.
REEL MOWERS:
Mowing a bermuda lawn with a properly adjusted reel mower is one of the first steps in taking your lawn to the next level as it will produce a superior cut over a rotary mower. Using a reel mower will require you to mow your lawn around 1 inch or lower as your HOC. The lower bermuda is mowed the thicker it will become. A reel mower cuts the grass like a pair of scissors as opposed to a rotary that basically just hacks to top of the blade off. If you are looking for a reel mower there are generally two types of mowers you will find out there, homeowner quality reels that are made by TruCut, McClane and Trimmer are good reels that are generally easier to adjust the HOC, are easier to maneuver since they are driven mainly by wheels and can usually be found for a decent price in most areas on Craigslist, eBay or FB Marketplace. The other kind of reels are Greens mowers that are used on golf courses to cut greens and tee boxes and are made by John Deere, Toro, Jacobsen or Baroness. These usually produce a superior cut over the homeowner reels, have infinite adjustable HOC's up to 1" and a drum on the rear to propel the mower and produce a superior stripe. Adjusting the HOC usually requires a little more effort and you will either need to buy or build a HOC gauge to make sure you are cutting at the correct height. They also have axles for the transport wheels that will stick out from the mower not allowing you to get up close to a fence or side of the house, these axles can be removed on some models or cut off with an angle grinder. These too can be found on the same sites as the homeowner reels but you can also find them for a good price at some auction sites throughout the year. You can generally find them for roughly the same price as the homeowner versions but expect to pay a premium for newer models and ones that are in good condition. Greens mowers are generally easier to work on but some parts may be more expensive.
PLANT GROWTH REGULATORS (PGR):
You will want to look for one with an Active Ingredient (AI) of Trinexapac-ethyl at 11.3% and usually goes by the name of T-Nex, Primo Maxx, Podium or Trin-Pac. It is fine to go with the generic version of these as they all have the same AI and it will save you money. PGR's are a great way to help improve the quality of your lawn and reduce your frequency of mowing at the same time. It basically slows down the upright growth of the grass and refocuses that energy into the roots and rhizomes to help thicken and strengthen your lawn. When you start mowing your lawn under 1" with a reel mower, this product is almost a necessity and once you start using it you will not want to stop. You will only need about 0.5oz per thousand every 3-4 weeks once the lawn is fully greened up but it is essential that you keep up with your applications as a "rebound effect" can occur once it wears off and you could get a surge of growth. PGR is often only available in one gallon jugs, so depending on the size of your lawn, you may want to consider splitting purchase with a friend or neighbor. For further reading, see
Information about PGR
.
VERTICUTTING:
This is a good practice to get into, especially during the spring scalp as this helps to remove a lot of the "mat" or built up material that a Bermuda lawn can produce over a season. You will want to look for a verticutter or dethatcher that they rent at Home Depot or various local rental places that have either the flail blades or fixed vertical blades. Avoid getting the one with the metal tines as they will not deliver the results you are looking for. What you are looking for is to vertically slice into the canopy/soil to help remove some of the built up stolons which will help create new growing points for the grass and give it a fresh start for the season. Depending on the condition of your lawn and your cultural practices during the year, you may need to do this again in the early to late summer time to open the lawn back up if you are having to raise your HOC to avoid scalping. You will want to make 2 passes at either 90° or 45° from each other and then remove all the material that it brings up to the surface. After cleaning up, now is a good time to give the lawn a good feeding of Nitrogen and water a little more frequently if done during the summer months(disregard the Nitrogen and water if doing this process during the spring scalp). Your lawn will typically recover in 2-3 weeks.
TOPDRESSING WITH SAND:
This is a step you will want to seriously consider if you are mowing with a reel mower and especially a greens mower. Typically it is a good rule of thumb to use about 1yd/1ton of sand per thousand square feet of lawn, but can vary depending on the severity of your lawn. Any kind of sand will work to help smooth and level your lawn so I recommend going with whatever is the cheapest in your area, just make sure that the sand is relatively uniform and does not have any pebbles or rocks which could damage your reel mower. Usually masonry sand is the best and easiest to find in most locations. After your sand is delivered you will need a wheel barrow or a garden cart to help transport it to various spots on the lawn. Using a garden cart and a riding lawn mower is one of the fastest and less labor intensive way of completing this task. After you have distributed all the sand to various piles across your lawn you will need to knock the piles down with a garden or landscape rake to help do the initial leveling of the sand. Next you will need to drag the sand around the lawn with some sort of drag mat. There are various ways of doing this as you can buy a steel drag mat online or even jerry rig a pallet to drag around the lawn. Depending on the size of your lawn you can either do this step by hand or use a riding mower to pull the drag around. After dragging the sand and working it into the canopy of the grass, you will want to water it in really good to help it settle even more. You may need to go back and add some sand to some spots that have settled more than others, so be sure not to use all of it up on the initial sanding. You may also want to apply some Urea (46-0-0) or Ammonium Sulfate (21-0-0) after you have completed this project to help give it a boost to grow through all the sand. It may take 2-3 weeks for the lawn to recover and grow completely through the sand and if you have some spots that are completely smothered it may take even longer. Basically when you are done, you still want to have most of the grass blades just barely showing through the sand as this will speed up recovery. You will also want to mow your lawn down as low as you can without scalping as this will give you a better idea of where all the low spots and dips are at. This is usually not a ONE and DONE project depending on what your goals are for the lawn, but just doing this once can make a huge impact on the smoothness of your lawn. For further reading, see
Leveling a Bermuda Lawn
.
WETTING AGENTS/SOIL CONDITIONERS:
There are various wetting agents on the market and selecting the right one for your particular lawn will require some trial and error to see what works best for your soil. Wetting agents will basically help distribute and retain water in your soil better than water alone since you soil will become hydrophobic over time due to organic build up and causing water to shed off the surface or even down below in the root zone. You can use baby shampoo as a cheap fix but it doesn't last as long as a professional wetting agent will. Also, be aware that some wetting agents are designed to "pull" water from the soil, so if you have an area in your lawn that "holds" water for a long period of time after a heavy rain fall, you may be able to apply this type of wetting agent to your soil to help alleviate wet spots. This is just another tool in your tool box to help achieve the ultimate lawn. For further reading,
see
Soil Surfactants/Wetting Agents
.
I would like to acknowledge: dfw_pilot, J_nick, Redtenchu and Ware for helping me finalize and critique this document.
Updated 5 Jan 18