Discussion Starter
·
#1
·
**The images should be working now**
So last Autumn (fall) I planted Penncross bentgrass in my front yard (My Avatar is my front yard at its best). I went with Bentgrass for a couple of reasons; 1 - I wanted a fine blade lawn that I could mow low with my reel mower, 2 - It was too late in the season to sod bermuda, and 3 - A cool season grass would allow me to mow lawn in winter when my Bermuda in the backyard goes dormant.
I did my research and I settled on either 007, Dominant or Tyee Bentgrass. Unfortunately, getting the amount I wanted was just too hard as no one would sell me less than 25lb. So I needed to settle for Penncross. However seeing as the Average temperatures in Adelaide range from 60 degrees in winter to 85 degrees in summer (although the temperature is often pushing 110 here in February and we regularly get weeks of 100+), I didn't think Penncross would cut it. I was right. Although I was able to nurse it through the heat, I still had close to 20% die off.
So I decided to get back on the hunt and eventually I managed to get a seed company to break a bag and sell me the amount I wanted. I picked Tyee Bentgrass for its superior heat tolerance.
I sprayed off the old lawn
Raked up the old lawn and threw it away
Today I was able to add 2 tonnes of 80/20 sandy loam, rolled and level out with a straight edge (as best I could)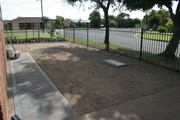 And finally I fertilised and seeded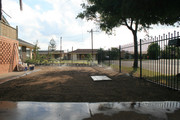 I used a starter fertiliser from "The Andersons" especially designed for fine blade lawns. The Analysis is 12-11-7
I'll post progress shots as I go