Discussion Starter
·
#1
·
I am brand new to TLF and you will find that I am a newb in terms of both my knowledge of lawn care and the decisions that need to be made to have the nicest lawn possible. I am also extremely happy to have found this website and I look forward to adding what I can in the future.
I built a new house last year and had the lawn sodded with Tif 419 because I wanted the tee box kind of look. I did not communicate well with my landscape architect and wound up with a very uneven lawn. He had no idea that I was looking for an absolutely level lawn that I could cut "reel" low. After the final grade, the soil was very level. Then came irrigation. The soil above the irrigation lines was not properly compacted before the sod was laid and now I have a lawn that has high and low spots. My fault because I should have let the landscape architect know what my expectation was. Sod was planted in early March of last year. I had it sanded twice last year but the landscaper used a power brush to work the sand into the yard and never completed a final leveling step with a rake or drag mat. I let the lawn winter at approximately 1.5 inches. In early February it was treated with pre-emergent and a fertilizer. I am not exactly sure what was used as I hire that portion of lawn care out. This week I have had my lawn de-thatched and scalped. I am looking for any and all advice for levelling the lawn and getting my HOC in the .75 inch range. I am willing to put in a large amount of effort so please feel free to hit me with what you think is necessary.
Last year I used a Mclane 10 blade that I purchased off of craigslist and had serviced to bring it up to speed. I spent a lot of time working on the mower and not actually mowing the lawn. So, this year I have also pulled the trigger on a new Swardman Edwin55(22in) 6 blade reel, grooved front roller, rubber drum, speed reducer kit, transport casters, and the brush cartridge (I have an artificial turf putting green, plan on using the brush to keep it in top shape and I might use the brush cartridge in levelling projects) and leather grips. Photos of the mower to come when it arrives. I placed the order with Lee Purcell of Reel Rollers and I highly recommend communicating directly with Lee if you have any questions regarding the Swardman line of mowers and cartridges.
Scalping/dethatching was completed the day before these pictures were taken and the pictures were taken today after I ran the sprinklers.
Backyard overview (picture taken facing north)
Backyard Side View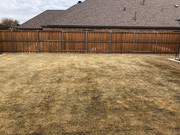 Current state of Tif 419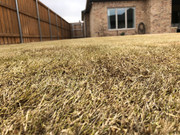 Backyard (picture taken facing south)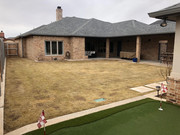 Backyard major problem area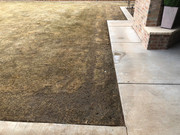 This is one of my largest problems. This is on the North side of my house where the grass doesn't get full sun. Additionally, the soil is below the level of the concrete surface and water pools in this area when it rains despite my gutters. Having a lot of difficulty getting grass to grow here. Can I bring the level of grass here up to the level of the concrete with one sanding?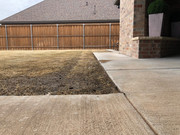 East side of front yard
url=https://postimg.cc/image/fytpkalmz/]
[/url]
West side of front yard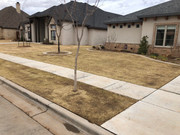 Post scalping, down to dirt in some areas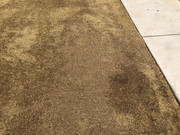 Problem spot on east side of house. Doesn't get full sun. Will this fill in? How can I promote growth?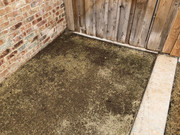 Currently in West Texas temperatures are on the rise and my lawn is already beginning to green up. The landscape architect is supposed to be coming again soon to complete another sanding of the lawn. His crew always uses a power broom to get the sand down into the turf. My current plan is to complete my own spot levelling after the LA completes his overall sanding. Then I will fertilize. Once the grass is coming through at a height of 0.75 inches I will start to mow every 3-4 days. Initially I plan on using my Mclane as I don't want to scar the blades on my new reel. Here are my questions (I apologize if they have already been answered in other threads):
1.) What fertilizer should be used now or after sanding/leveling is complete?
2.) For the low spots/problem spots that I have already highlighted, can I level them out in one sanding or will it take several to make sure I don't choke the Bermuda out in these areas that don't receive full sun?
3.) Should I complete further scalping if I want to maintain a HOC of .75inches? (see current state of Tif pic above)
4.) Will I be able to maintain a HOC of .75 inches if occasionally I go 5 days between mowing?(I travel a lot for work and sometimes I am gone on trips that make mowing every 3-4 days impossible)
5.) Should I just use the Edwin as soon as the grass is tall enough to cut or am I correct in saving the blades and using my Mclane reel?
6.) Are there any other ideas/suggestions out there?
Thank y'all for any information you give me. I really appreciate the help and I'm excited to be part of this community.