Discussion Starter
·
#1
·
Hey guys. I ordered some slender Weaver bamboo and all the canes were for some reason topped. (Cut off ) at about 5 feet. Now the entire reason I ordered this bamboo was to grow it tall and block out my neighbors and the horrific cat patio enclosure that they built..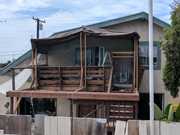 There is literally 10-15 cats in that monstrosity.
I've read that once a cane is topped, it will never get any taller.
Do I have to return these and get another batch? Or can I add milorganite to maybe get them growing again? I'm pretty pissed that the would top all the canes like this. The nursery said they do it to encourage new cane growth, but why would you stunt the existing canes so much? They are not even at half the height that they should grow up to.
Anyway. Any tips would be welcome.