Discussion Starter
·
#1
·
So, late in the season to start this but here we go...
I'm near Birmingham, AL and l've always appreciated a nice lawn and wanted my own. We Bought this house 2 years ago with nice looking, tall bermuda grass. Everyone around here seems to think that's what you should do with bermuda- mow high and infrequently. Most people think it's a chore that must be done rather than an enjoyable thing you get to do frequently. Anyhow, the previous owner used a service to spray and kept it high and relatively weed free. I have never and don't plan to ever pay anyone to treat my lawn. It's one of those things I take pride in being able to do myself.
This is my first year reel mowing and fertilizing and lots of other stuff. I started reading about "reel low bermuda" and found a deal on a TruCut P20 mower which came with a electric blower and weedeater(both stihl brand). I started the season by scalping really early. When I say "scalp" I mean from 3" to the dirt. Then I bought a sunjoe dethatcher/scarifier. I tore up the yard really good with that and got the neighbors all thinking I had a few screws loose(which I just may). Then I got a deal on a Ryan greens aerator. poked a bunch of holes in the lawn and threw out some milo.
Other new toys... I mean tools for this year(I love tools):
John deer(made by Mclane) 3K edger
Scotts DLX spreader with edge guard
Homelite Chainsaw
Yard Machines Chipper/Shredder
Troy Built electric tiller
Toro Greensmaster Flex21(about to be for sale)
Toro Greensmaster 1000(about to be my long term mower)- came with a 2nd parts mower.
Pro Plugger(Father's Day gift!)
Everything was very cheap. Craigslist, thrift store, etc... I also have spent very little money on fert and chemicals. I'm cheap and I want this not to be too complicated. This is fun for me and I want it to stay that way and not break the budget. Gotta feed 4 kids.
I'll try to get some current pics tomorrow. I didn't take pictures before or during the spring overhaul. Here's how it looked on Memorial Day: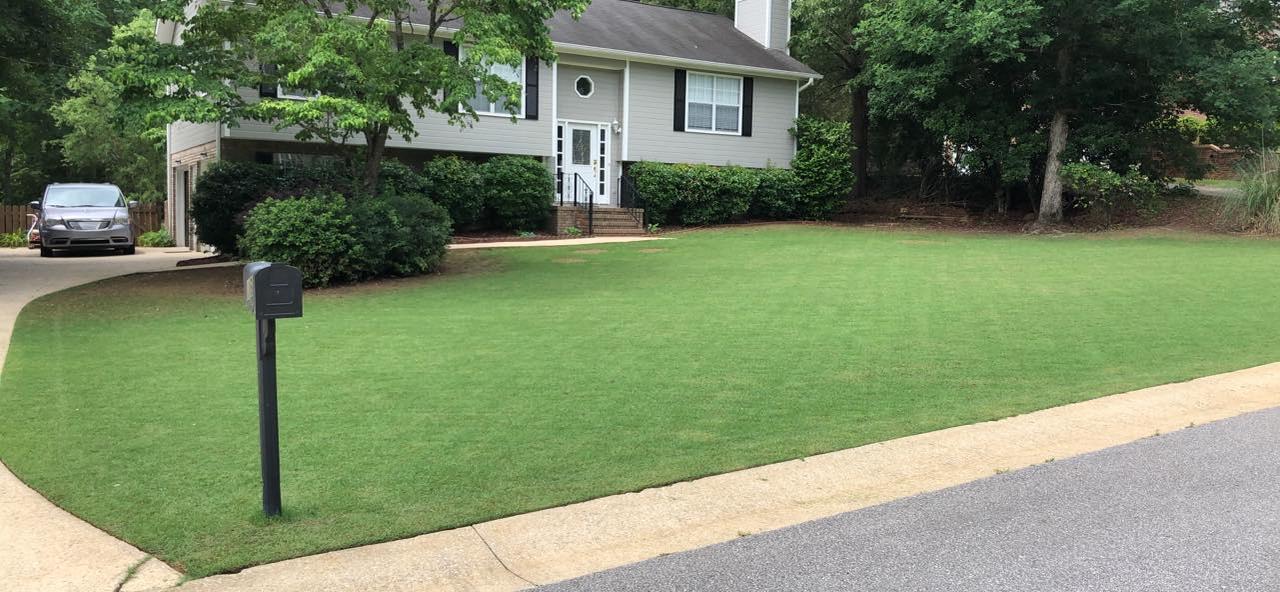 I'll add more history later. Don't want to make the first post a novel. More details to follow....