Discussion Starter
·
#1
·
Does anyone have any suggestions for improving on, what appears to a novice like me, to be a badly designed sprinkler layout which doesn't involve lots of digging ie different heads, mps vs rotors? The white circles are 30' weathermatic turbo 3s. I've included measurements from head to edge or next head.
I guess there's a max of 6 heads per zone judging by other zones. The top right head belongs in a different zone.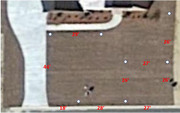 If I do decide to start digging up the lawn, what would be a good way to redo it?