Discussion Starter
·
#1
·
Going to give this a shot. I've kept a partial journal on Evernote throughout the season, but I've missed a few things so I'm working from memory on some of these items:
4/1/2018 -- Ringer Lawn Restore .75 #/k N (Really regret doing this)
4/10/2018 -- Lesco Starter Fert .75 #/k N. Fast Acting Lime.
Sometime between these dates -- Landscapers applied Dimension 0-0-7
4/29/2018 -- RGS/Air8/Greene Effect Cocktail
5/18/2018 -- .5 #/K Milorganite. Fast Acting Lime. Spectracide insecticide.
6/9/2018 -- Scotts Starter Fert w/ Mesotrione on backyard. .75 #/K N
6/14/2018 -- Landscapers applied 19-0-0 Lesco + Dimension to front and side yards
7/2/2018 -- .5 N/K Milorganite. Curative rate Disease Ex back yard/Preventative Rate side/front yards. 3 #/K Ironite. 6 #/K Fast Acting Lime Back and Side Yards. 12 #/K Fast Acting Lime front yard.
8/17/2018 -- 1 #/M SOP
8/21/2018 -- 4oz rate Tenacity blanket spray; 2 oz/M Propiconazole
8/23/18 -- .5 N/M 46-0-0
8/26/18 -- Prodiamine at .4 oz/M
2019
4/6/19 -- .25lb ai/ac of Dimension
4/10/19 -- .80lb N/M 18-24-12 Starter Fert
4/30/19 - 1 oz/K PPZ, 1 oz/K Feature, .5 oz/K T-Nex
5/11/19 - .5 N/M Carbon-X
Problem Areas:
Backyard -- The backyard actually appears to be the best part of my property; however, it has zoysia mixed in there so it needs a reno. I'm not sure how the zoysia got in there, as I purchased the place two years ago and it's always been a problem. Zoysia looks great in the summer, but I'm not fond of the early fall dormancy and late spring green-up. I hit the backyard with Mesotrione instead of Dimension in hopes that the Dimension wouldn't be there to hinder my reno efforts.
Street Parkway -- I've included some pictures below of a grass I'm dealing with there. Would appreciate any help in identifying the grass. The grass seems to have spread underneath the sidewalk to the other side as well. Tenacity lit this grass up when I sprayed in the spring, but it didn't kill it off. To be fair, I only sprayed it once because it was such a large area that was highlighted, and I didn't want to try to oversee with the summer temps looming.
General Area -- I seem to have many areas throughout the lawn that have a very fine, thick grass that has matted down in some spots and just dried out in others. I think it's a fine fescue, but I'll post a pic for some confirmation. These areas were all great in the spring, but the summer heat is really exposing them now.
I'm 99% certain that I'll completely renovate the backyard this August. I have the Round-Up on hand and planned on starting the kill on 7/6/18 with a seed down date of 8/4/18. I'm a little torn on the mix of seed I'll use, but I'm thinking a KBG/PRG or KBG/TTTF 80/20 mix. I've followed a few threads on renos here in Jersey with the TTTF blend and they turned out awesome! I'd appreciate any input here on the seed choice and seed source . . .
Ultimately, my goal is to have KBG be the dominant grass throughout the yard. I'm trying my luck here with the backyard reno and then will consider a front/side yard reno next year.
Some additional info:
I've had Soil Savvy tests done, but I haven't had a chance to have another lab that's recommended here perform an analysis. I'm also irrigated so I do plan on applying Milo (likely on 7/4). Pictures below:
Front Yard 5/23/18: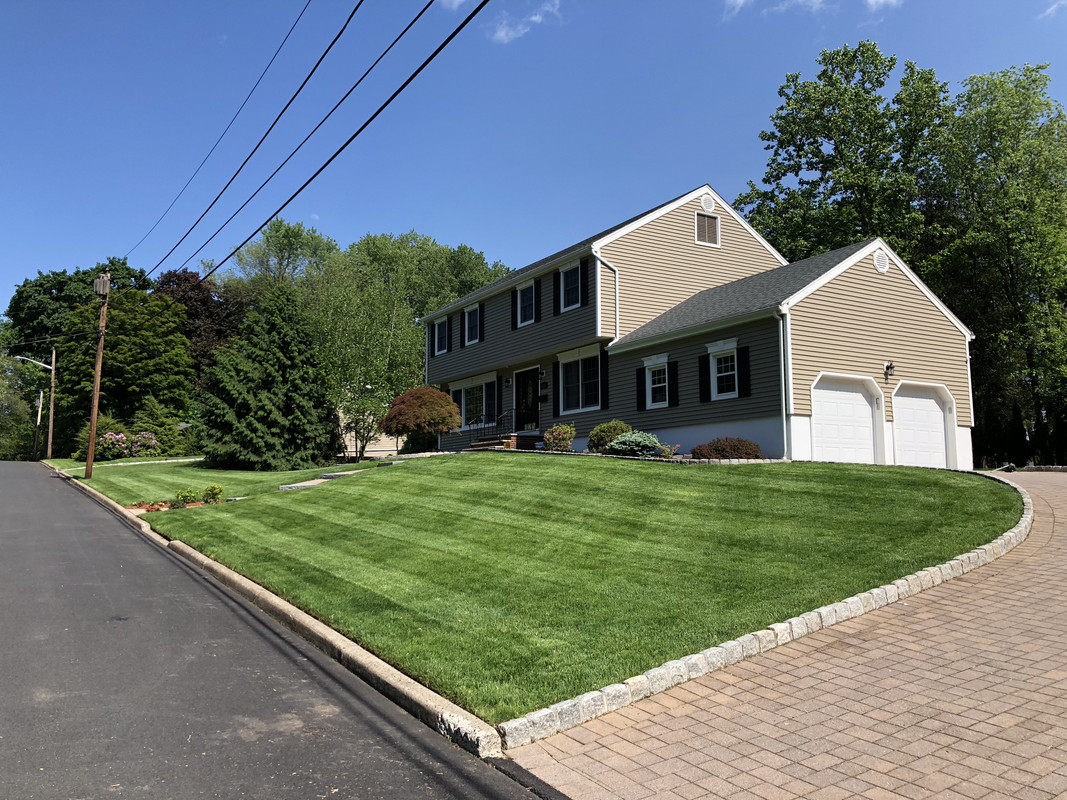 Side Yard 5/23/18: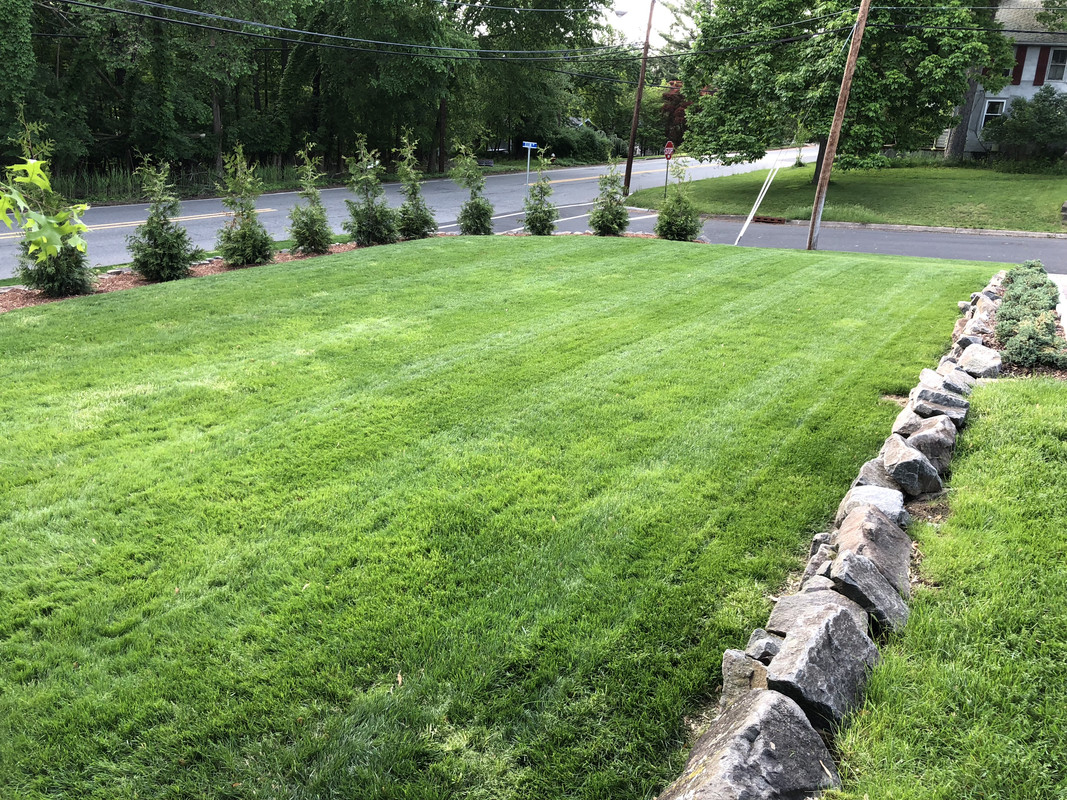 Backyard 5/23/18:
Backyard 6/18/18: