Discussion Starter
·
#1
·
The grass on the strip between the street and the sidewalk in front of my house has been problematic for the 20 years I've lived here. The fact that I haven't used a pre-emergent fertilizer for several years and have been focused on spending each fall over the past few years dealing with the annual May fungus damage on the rest of the lawn haven't helped things: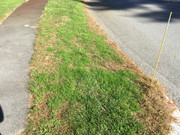 One issue is that this area isn't covered by my irrigation system (not practical) and is on the south-facing side of my property and subsequently gets lots of sun. About ten years ago I rototilled the entire thing, removed the many fist-sized rocks the builder left behind, added some topsoil, and planted some drought resistant Fescue. It looked pretty good for a while, but stuff like snowplow damage, weed creep, and general lack of attention have taken their toll.
Now that I think I've started to get a handle on the rest of my lawn, I'm trying to think ahead about what I can do with this area and when I should do it. I think that the easiest thing to do would be to use a pre-emergent in the spring and then just overseed the entire thing with some sort of drought resistant grass seed again in the fall. Does that make sense? Should I consider just nuking the entire thing and starting again, which might not be wife and/or neighbor friendly? Should I be considering something other than Fescue? Is this a good project to start in August? WWYD?