Discussion Starter
·
#1
·
I recently modified my GreensMaster 1000 to have an LED light bar for mowing in low light situations. I wanted this primarily for times when I am almost done mowing but it is starting to get dark. This theory is contrary to my neighbors or wife's opinion that I want to mow 3 AM. I used all aftermarket parts so I could avoid buying Toros light kit. This light kit modification does not use a battery. This is wired the same way you would wire DC lights on a snow blower. My financial goal with this project was to keep it simple and inexpensive. Otherwise why not just buy the one that Toro sells?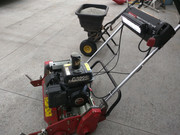 A member on this forum who recently embarked on a "journey back into the lawn" asked me if I would share how I made it work. This was a simple and
FUN
project once I was able to wrap my head around how it needed to be wired.
The parts you will need include but are not limited to:
Bridge rectifier
Fuse
You will need a fuse to go with it from Autozone
LED light(s)
Diode
Capacitors 2
Switch rocker style
I bought this from my local orange home improvement store
Wire 14 to 16 gauge
Connectors
There are 2 wires that come from the mower stator that produce AC current. This AC current alternates so there is not a positive or negative. The AC voltage that comes from these two stator wires need to be converted to DC voltage for the lights/circuit to work. This is done via a bridge rectifier. The bridge rectifier has 4 terminals on it. 2 AC inputs and 2 DC terminals one positive DC and other is a negative DC terminal. This DC circuit is where you will need to hook up the circuitry for the light kit.
This is a picture of the 2 yellow stator wires coming off the motor fly wheel.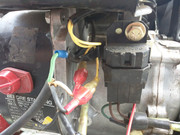 The first thing to do is to convert the AC power to DC power. First take one of the AC lines from the stator and insert/install a fuse (2 or so amp) in the line before you plug it into the AC side of the bridge rectifier. Then take the other line from the stator and run that into the other AC input of the bridge rectifier.
On the + positive side of the bridge rectifier insert the diode in the line. The diode is directional and prevents current from heading back in opposite direction after it has passed through it. It prevents back flow. Think of it like a back flow preventer in a water system. This cannot be installed backwards. A simple google search will show you what side of the diode is positive and what side is negative.
The output side of the diode needs to head to 3 places within the same connection (wire nut, crimp, or soldered). This wire from the diode needs to head to both of the + positive leads from the 2 capacitors and the line in power side of a rocker switch. You can skip the switch if you want to have the lights on every time the mower is on. I wanted to be able to turn the lights on and off so I elected for the switch.
From the power out terminal on the switch you will take this wire from switch to positive + side of LED light bar or lights.
On negative wire on LED light you will run the wire to 2 places. Take it to the negative side of the 2 capacitors. From the 2 negative leads on the capacitors it also heads to the negative side of the DC side on the bridge rectifier. When you plug the last line from negative side of capacitor to negative connection on bridge rectifier it completes the circuit.
There is a ground terminal on some switches that needs to run to a ground on the mower. This is only used if you have a lighted switch. If your switch does not have a light option then the ground is not needed.
All or the majority of this wiring is stuffed into this little 3 inch outdoor electrical wiring j-box. I was not able to find a suitable enclosure that was not a lot money. I saw some good ones on Amazon but my whole goal with this project was keep it inexpensive.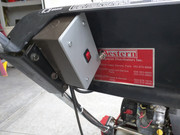 I have a ragtag hand drawn diagram that I am attaching but please do not judge me on my artistic abilities. Please only judge me on my lawn abilities.
Please ask questions if you are going to attempt this project and do not understand because I am sure I am leaving something out.
On a side note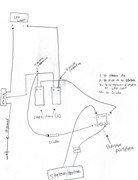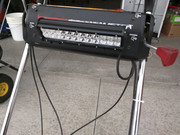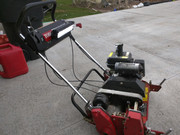 Light OFF (this is actually a real picture with my phone flash off)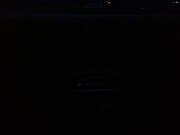 LIGHT ON