Discussion Starter
·
#1
·
Hello all, just joined in the quest for knowledge and guidance! I honestly dont even know where to begin or what to start for my search.
I purchased a new construction home in northern Massachusetts on June 1 of 2016. We were not involved in the building of the home so I unfortunately had no involvement in the landscape construction and the types of fill or seed that was used, or the application method. The original site was a farm in a low lying valley with very rich, albeit very wet soil. The builder built up roughly 1/2 of the site to accommodate the septic using fill of some sort.
The lower portions of the yard went un-mowed for the duration of the construction until we purchased the home at which time they were 3+ feet tall and I spent weeks with my trusty 38" John Deere mower taking it down slowly but surely. Two pictures below of the before. You can see the new lawn starting and the lower areas which were essentially a jungle.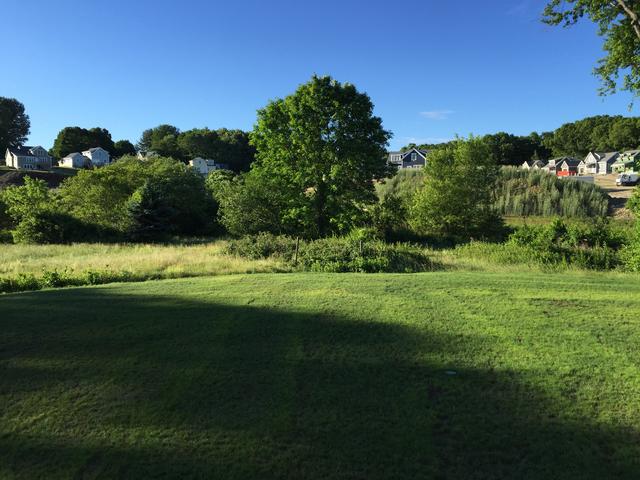 That lower area is at a point where it is 100x better than the upper portion of the yard. It could use some weed control and some greening up in some areas, but the maintenance that area needs pales in comparison to the really bad stuff...
The summer of 2016 in Massachusetts was a horrible drought and there were severe water restrictions, the lawn essentially was never able to establish. This is a photo taken on July 21 of 2016 only 2 months after we moved in when the above pictures were taken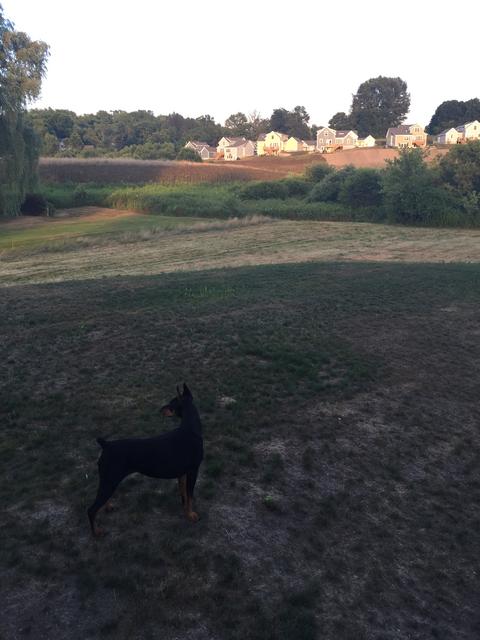 You can see how bad it is and how there is a lot of sand. I tried to get it back by putting down 10 yards of clean loam and reseeding - it barely took. Last spring I put down a 50/50 mix of loam and compost and again re-seeded, it came in OK, but has never grown to a point where it is strong, healthy grass, and still the yard is patchy, thin and I am getting frustrated.
Below is how it currently looks which is little improvement from the burnt to a crisp July 2016 photos.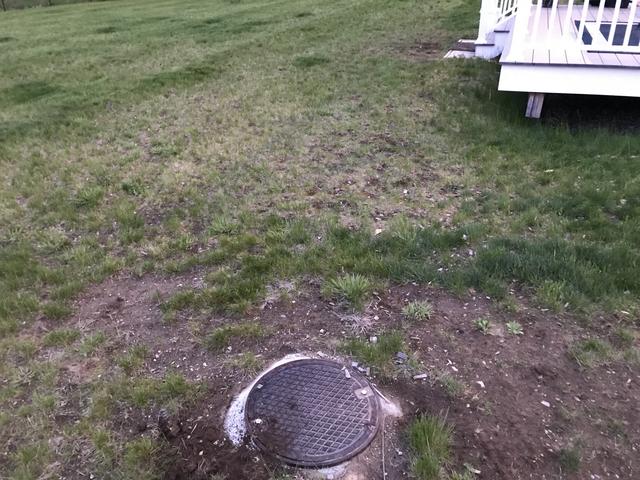 You can see the cover for the septic system - i also cant seem to keep grass growing around this area. I have filled and reseeded it twice, and each year it just dies.
The builder also didn't grade the mound with much forgiveness so i cant get grass to establish on the hills. It seems like every time I seed we get torrential rains and all the fill and seed just wash down the hill. The lawn tractor also tends to dig up the side of the hill as I drive up and down when cutting. I cant traverse the hill or the tractor will tip so I go laterally but braking and slipping have killed those areas.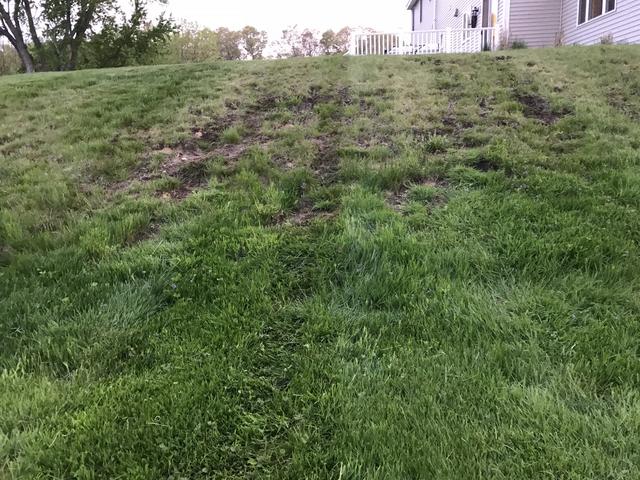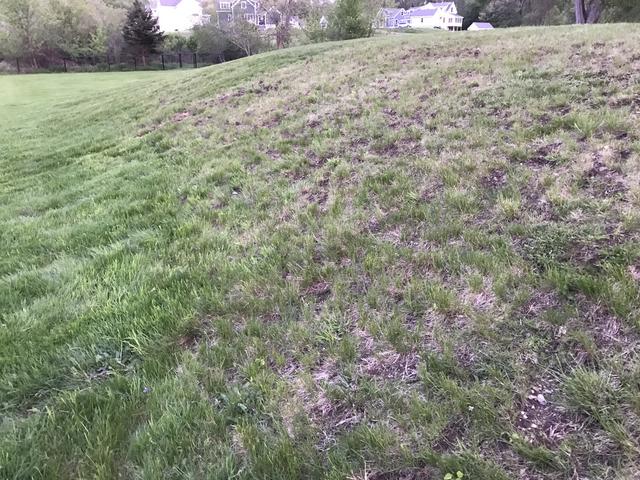 I have spent months digging mowing, digging out silt fence, ripping out old farm remnants, filling low spots, seeding, fertilizing, watering, mowing, mowing, mowing, and yet I cant make any headway, each summer seems worse than the previous. I have also noticed that there are a lot of small ants, and a lot of clover spreading. This can likely be remedied chemically, but what is the best time to apply so that the seed or juvenile grass doesn't immediately die? And what is the best product to accomplish this?
I apologize for the length of this post - trying to get as much information out as possible in the hopes that I can one day, have a thick green lawn my kids can enjoy and that i can be proud of. Is this mostly just due to poor soil? I plan to have a soil test done this weekend so can report back there.
As for grass I am unsure what the contractor used, but suspect a contractor mix which in this area is usually a mix of perennial ryegrass, creeping red rescue and annual ryegrass. I have seeded with KBG, Perennial ryegrass and creeping red fescue.
I have used several types of fertilizers in my attempts at making things better. Starting with Scotts Summer Guard and dolomite lime. I fertilized last spring summer and fall with suggestions from a local Agway, but kept poor notes so unfortunately cant provide any more information. Stupid mistake in my part, and I plan to log everything moving forward so I have a history. Part of my challenge is having no idea what is necessary so have been throwing anything against the wall hoping it sticks.
TL;DR - new construction home, really really bad lawn - seeking help on fill, seed and chemicals.