Discussion Starter
·
#1
·
I plan to use this thread as a journal for my transition zone KBG lawn. Earlier chapters on how we made it to this point can be found in my
Fall 2017 - transition zone KBG - year two overseed
thread. After a Fall of following great advice from members here and heavy spoon feeding + PGR, I'm very pleased with where I'm at going into Spring. As I write this, my wife is due to have our first child any day, so my goal for 2018 is to
try
putting the maintenance schedule on autopilot and hope I can make it to Fall without destroying my last two years of work. As always, I welcome any and all comments and advice.
I finished 2017 with four final weekly applications of ammonium sulfate at 2.5 lbs (0.24 lb N/M) in December and then dropped a 30lb bag of Pennington Fast Lime w/AST in mid-January. We had an initial early warm-up in late February, so I applied 0.16 oz (0.075 oz/M) of Tenacity and 0.58 oz (0.27 oz/M) of Prodiamine. This worked well to keep the poa annua and clover at bay until the cold blew back in for another month. Now that the warmer temps are finally here, I may need another Tenacity app. I purposely keep the first one light since the first warm-up had been so early in the season.
I cut for the first time in 2018 on March 4th at 1.75" to clean things up a bit and grabbed this pano just before dark.

The below avg temps through March slowed growth back down a bit and brought back a few brown tips, but the cold weather and snow have given way to warmer temps and much more sunlight, so it needed a cut again this week (1.75" HOC). I also re-enabled my Rachio irrigation controller plan this week and it got a deep water yesterday afternoon. I grabbed these this morning.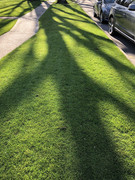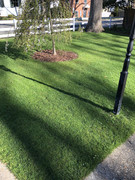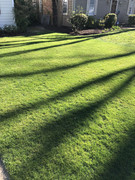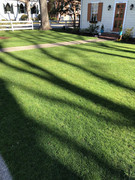 The neighbors on pro plans have all had N applications, so their TTTF is a bit greener and flushed at this point, so it's been tough resisting a N app myself, but I'm going to attempt going without given the ~6lbs/M it got over the Fall/Winter. If I can get the time, I'll probably put down some Essentials Plus and another light Tenacity app this weekend. I'm thinking I'll start the the PGR back up and begin with some preventative bio fungicide apps some time in May depending on temps, humidity, and growth. The 1.75" HOC is looking really nice, so I'll keep it there until I start to see some Summer stress.
Thoughts on anything here?