20k Tif419 Bermuda in Greenville SC.
Discussion Starter
·
#1
·
Hi there TLF!!
We purchased a 2yo home in a newish sub-div about a month and a half ago. I'm yet another northern transplant (Downstate/Hudson Valley Region) and since I was working 70-80+ a week, the name of the game up there was low-maint. Cut it high, Scotts 4-step, about 1 acre, you guys know this story. It was the best looking lawn in the 'hood, which wasn't a high bar to clear by any means, and didn't break the bank to get that way. Mostly KBG with a healthy dose of PRG mixed about.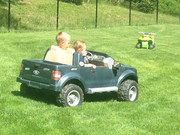 My, how things have changed for me..... :lol:
So here are a few shots taken the day I moved in.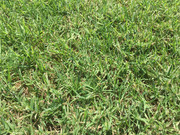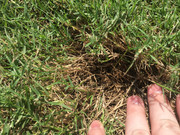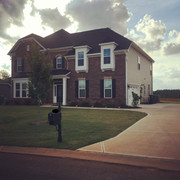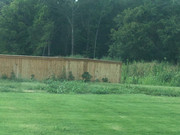 So I have what I believe to be a hybrid variety of Bermuda, that was allowed to grow WAY too high as my first cut was at 4"+ and I was exposing stems. I have been trying to work it back down each week, not more than 1/2" each week, mowing at least 2X weekly. Even then I have to use my backpack blower to break-up the clippings as the tangled mess of stems gets sucked up into the mower creating what is for me, a surprising volume of clippings for such modest adjustments.
After the first couple cuts, I noticed the lawn was doing....... nothing. Nothing at all really. So I went for throwing down about 25lbs of TurfBuilder (32-0-0) and that at least did spur a little growth. With a little bit of color (just a tiny bit) returning, I kept up with the 2X mowing, dropping the HOC a 1/2" on my 2nd cut on Saturdays.
So here I am,finally cutting at about 2", and my lawn looks like crap and I have maybe a month before it goes dormant if the weather holds out. I have been kicking around the ideas for what I want to do next season. Still playing with the idea of tossing some annual rye on it (via overseeder) for the winter and scalping it hard in the spring. But then what? I feel pretty ill-equipped to achieve anything less than a 2" cut and even that will be challenging thanks to some creative grading and my 48" deck. So, where do you guys think I should go with this mess? How bad am I going to break the bank if I push this lawn down to 1" or lower? I get the equipment costs, I've even spent a little time hoofing it behind a greensmower. (And tri-plexs, and fairway mowers, etc....) But how much more water (I have an irrigation system here) fert, and Chem am I in for? I'm going to need a sprayer appropriate for this yard too in addition to some kind of reel mower. Plus a major leveling project is likely in the spring. Is this even feasible for what is likely at least 15k of lawn? It's pretty overwhelming but I'm hoping you all have some good ideas on where to start, and perhaps a short-term fix to make me feel better about this season!
Pics taken tonight: